Avert your eyes! My Sunday morning look at incompetency, corruption and policy failures:
• The Anti-Vaccine Movement's New Frontier: A wave of parents has been radicalized by Covid-era misinformation to reject ordinary childhood immunizations — with potentially lethal consequences. (New York Times)

• The Disastrous Record of Celebrity Crypto Endorsements: From Matt Damon's infamous ad to Reese Witherspoon's NFT partnership, celebrity crypto touts haven't gone well for fans (Bloomberg) see also Terra $45 Billion Face Plant Creates Crowd of Crypto Losers VC firms, investors and startups are among the casualties The market downturn could chill white-hot valuations in crypto. (Bloomberg)

• 'Debt bomb' risks: More than 40 nations are at risk of default — and that's a problem for us all The world faces the possibility of a series of economic collapses that could destabilize the lives of millions of people. (Grid)

• How Florida Twisted Science to Deny Healthcare to Trans Kids: VICE News spoke to 10 researchers who weren't aware their work was being used for Florida's anti-trans agenda—and said it's being misrepresented. (Vice)

• A ransomware attack cost this entrepreneur a year of his life and almost wrecked his business: When ransomware bandits struck his business last June, encrypting all his data and operational software and sending him a skull-and-crossbones image and an email address to learn the price he would have to pay to restore it all, Fran Finnegan thought it would take him weeks to restore everything to its pre-hack condition. (Los Angeles Times)

• A Right-Wing Think Tank Claimed to Be a Church. Now, Members of Congress Want to Investigate. Forty lawmakers are calling on the IRS and the Treasury to investigate after ProPublica reported that the Family Research Council gained protections by claiming it is a church. (ProPublica)

• Lies for Profit: Can Sandy Hook Parents Shut Alex Jones Down? A hefty financial verdict this week could dissuade other politically driven liars. But the path forward is uncertain, and the legal battles take a toll. (New York Times)

• A Very Dangerous Place to Be Pregnant Is Getting Even Scarier: Texas leads the US in maternity ward closures, and nowhere is this more of an issue than in the western part of the state (Bloomberg) see also It's Getting Harder to Be a Woman in America The US welcomes the employment and economic advancement of women—yet doesn't actually support them. We've finally hit a breaking point.(Businessweek) see also Police accused her of making up her rape, then destroyed the evidence When one woman demanded answers about why items in her rape case were sent to a dump, she found she was not alone. Her case is part of a national problem. (Washington Post)

• How Russia spread a secret web of agents across Ukraine: Long before Russia invaded Ukraine, the Kremlin was building a network of secret agents to smooth its path. A Reuters investigation shows the infiltration went far deeper than has been acknowledged. (Reuters)

• Trump Supporters Think They're in a Fight to the Death: Fear, hate, and grievances animate the new Republican Party. (The Atlantic) see also On the campaign trail, many Republicans talk of violence: In both swing states and safe seats, GOP candidates say that liberals hate them personally and may turn rioters or a police state on people who disobey them (Washington Post)  
Be sure to check out our Masters in Business interview this weekend with Anat Admati, Professor of Finance and Economics at Stanford University Graduate School of Business. She is also the director of the Corporations and Society Initiative, and a senior fellow at Stanford Institute for Economic Policy Research, She was named by Time Magazine as one of the 100 most influential people in the world, and is the co-author of The Bankers' New Clothes: What's Wrong with Banking and What to Do about It.
More than four in ten parents (43 percent) are not willing to get their young children vaccinated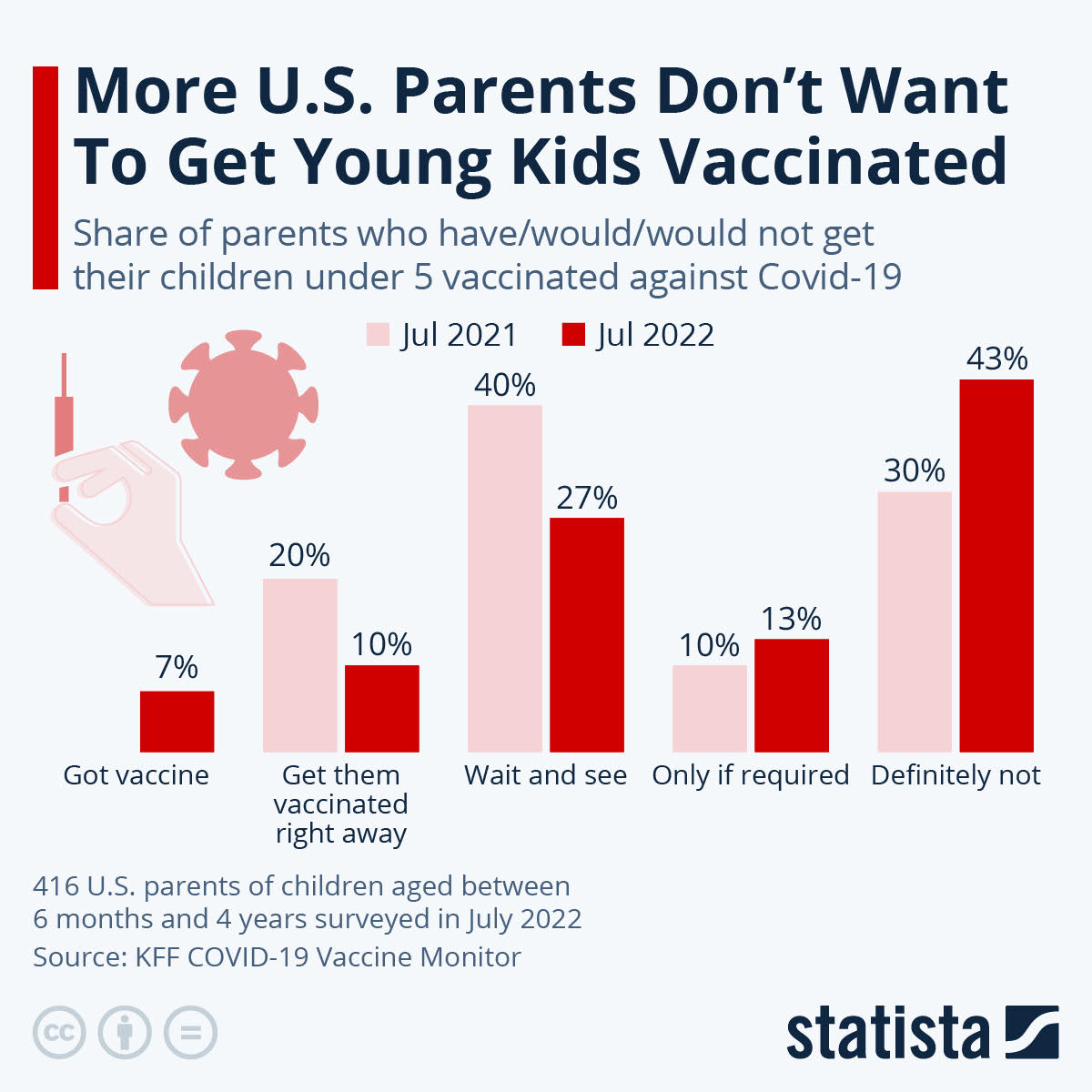 Source: Statista
Sign up for our reads-only mailing list here.
~~~
To learn how these reads are assembled each day, please see this.