My mid-week morning train WFH reads:
• NYSE Investigates Technical Issue That Caused Wild Market Open: At least 40 S&P 500 stocks were hit with trading halts. NYSE says it's investigating issues with the opening auction. (Bloomberg)

• For Tech Companies, Years of Easy Money Yield to Hard Times: Rock-bottom rates were the secret engine fueling $1 billion start-ups and virtual attempts to conquer the physical world. But in 2023, reality bites. (New York Times) but see Stop Worrying About All Those Tech Layoffs… What looks like giant layoffs are a tiny percentage of the recent hiring of these same firms, which represent 3% of the workforce. The big scary tech layoffs are a small portion of the overall workforce. (The Big Picture)

• Why Invest in Stocks When Bond Yields Are Higher? In the fall of 1981 the yield on 30 year U.S. Treasury bonds hit 15%. That was the bond buying opportunity of a lifetime. Those are the kinds of yields where you can go to the beach and live off the interest…and no one wanted them. (A Wealth of Common Sense)

• Hedge Fund That Got China Right Sees Risk in US Credit, Stocks: Vantage CIO warns against ignoring drop in new factory orders Ferres sees red flag in tight spreads for US high-yield credit. (Bloomberg)

• What Microsoft gets from betting billions on the maker of ChatGPT: The reported $10 billion investment in OpenAI will keep the hottest AI company on Microsoft's Azure cloud platform. (Vox)

• Rich Customers Pull Money From Banks Offering Paltry Interest Rates: Wealth-management clients are moving deposits into higher-yielding Treasurys and money-market funds (Wall Street Journal)

• Induction stoves: The technology, the politics and why much of the world is on board: And the reasons America doesn't feel the need to move to induction cooking. (Grid)

• Long Covid Is Keeping Significant Numbers of People Out of Work, Study Finds: An analysis of workers' compensation claims in New York found that 71 percent of claimants with long Covid needed continuing medical treatment or were unable to work for six months or more. (New York Times)

• "I Still Find Myself Wondering If This Is Real Life": Adam Kinzinger Has Little Hope for the Future of His Party: The former congressman and newly minted CNN commentator tells Vanity Fair there are "no heroes" in today's GOP, sounds off on Kevin McCarthy's Speakership, and reflects on the Jan. 6 committee's legacy. "I think the biggest impact will just be in the arc of history," he says. (Vanity Fair)

• Federer and Williams Were the Best Ever. Or Maybe Not. The greatness that counts is the greatness we've seen. And what these two tennis players have in common – apart from all the major titles – is that their achievements are in recent memory. (Bloomberg)
Be sure to check out our Masters in Business interview this weekend with Steven Klinsky, Founder and CEO, New Mountain Capital. Prior to founding New Mountain Capital in 1999, he was co-founder of the Leverage Buyout Group of Goldman Sachs, where he did $3+ billion of transactions before joining Forstmann Little as a partner, where he oversaw $10+ billion in capital.
LCH Investments list of the best-performing hedge fund managers of all time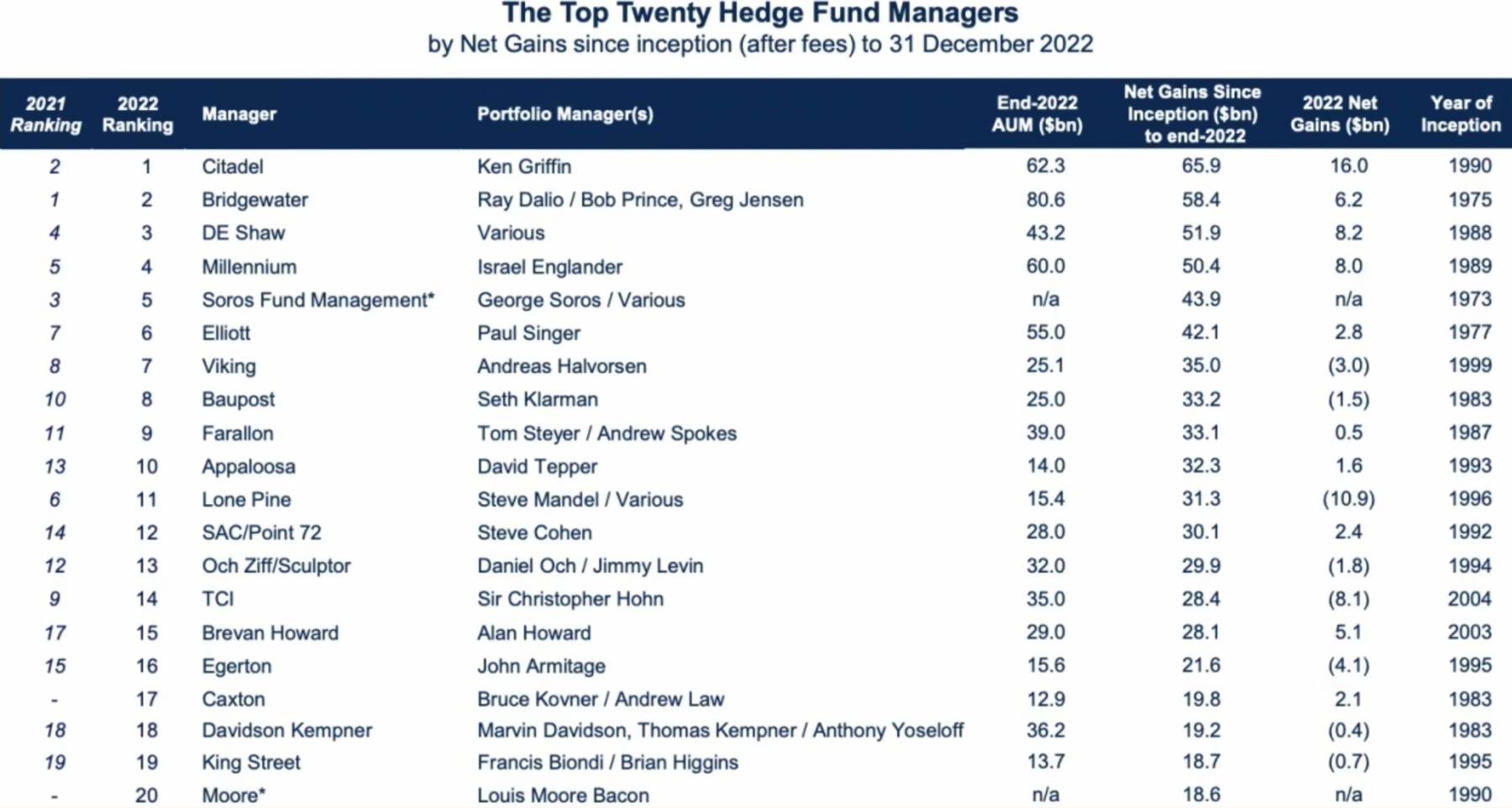 Source: Financial Times
Sign up for our reads-only mailing list here.