Avert your eyes! My Sunday morning look at incompetency, corruption and policy failures:
• Getting less for the same price? Explore how the CPI measures "shrinkflation" and its impact on inflation. (BLS)

• How a Drug Company Made $114 Billion by Gaming the U.S. Patent System: AbbVie for years delayed competition for its blockbuster drug Humira, at the expense of patients and taxpayers. The monopoly is about to end. (New York Times) see also "We're Still Gonna Say No": Inside UnitedHealthcare's Effort to Deny Coverage to Chronically Ill Patient: After a college student finally found a treatment that worked, the insurance giant decided it wouldn't pay for the costly drugs. His fight to get coverage exposed the insurer's hidden procedures for rejecting claims. (ProPublica)

• The Narcissism of the Angry Young Men: What to do about the deadly misfits among us? First, recognize the problem. (The Atlantic)

• Sean Penn's Disaster-Relief Charity Ended Up a Money Mess: CORE saved American lives during the pandemic. Employees say it has also failed to shield them from alleged sexual harassment or address financial mismanagement. (Businessweek)

• Professionalize the police: U.S. citizens are 60 times more likely to be killed by police than British ones, a gulf the Noah Smith blamed on a lack of professionalism: U.S. police average about 600 hours of training, compared to more than 2,000 in England. American police officers undergo far less training than American plumbers or cosmetologists, professions that don't require people to carry deadly weapons. An obvious major reform needs more attention than it's getting. (Noahpinion) see also Cities Are Thinking About Police Staffing All Wrong: The number of officers in most big-city departments is the same as it was when crime was much higher in the late 2000s. (CityLab)

• The truth behind the viral MTG Tweet claiming the second covid booster puts many people in the hospital: A look at the sources MTG cites and fact-checking the numbers those sources use. (Grid)

• Inside a US Neo-Nazi Homeschool Network With Thousands of Members: An Ohio couple has been unmasked as leaders of the neo-Nazi "Dissident Homeschool" Telegram channel that distributes lesson plans to 2,400 members. (Vice)

• Far-right project that pushed election lies expands mission as Trump ramps up 2024 campaign: ReAwaken America faces criticism from religious leaders as it pushes disinformation using Christian nationalist messages. (The Guardian)

• Ron DeSantis' Secret Twitter Army of Far-Right Influencers: Ron DeSantis' political operation has been recruiting conservative influencers. But the personalities DeSantis is attracting have plenty of problems. (Daily Beast) 

• In a Famed Kenyan Game Park, the Animals Are Giving Up: As a climate change-induced drought wears on, it's putting more pressure on wildlife, livestock, and people. (Undark) 
Be sure to check out our Masters in Business next week with William Cohan, M&A investment banker at Lazard Frères, Merrill Lynch, and JP Morgan Chase. He is also an accomplished author, was a columnist for Vanity Fair's Hive, and a founder of Puck. He is also a NYT bestselling author of multiple books on Goldman Sachs, Bear Stearns, and Lazard Frères. His latest book on GE is titled: "Power Failure: The Rise and Fall of an American Icon."
US spends most on health care but has worst health outcomes among high-income countries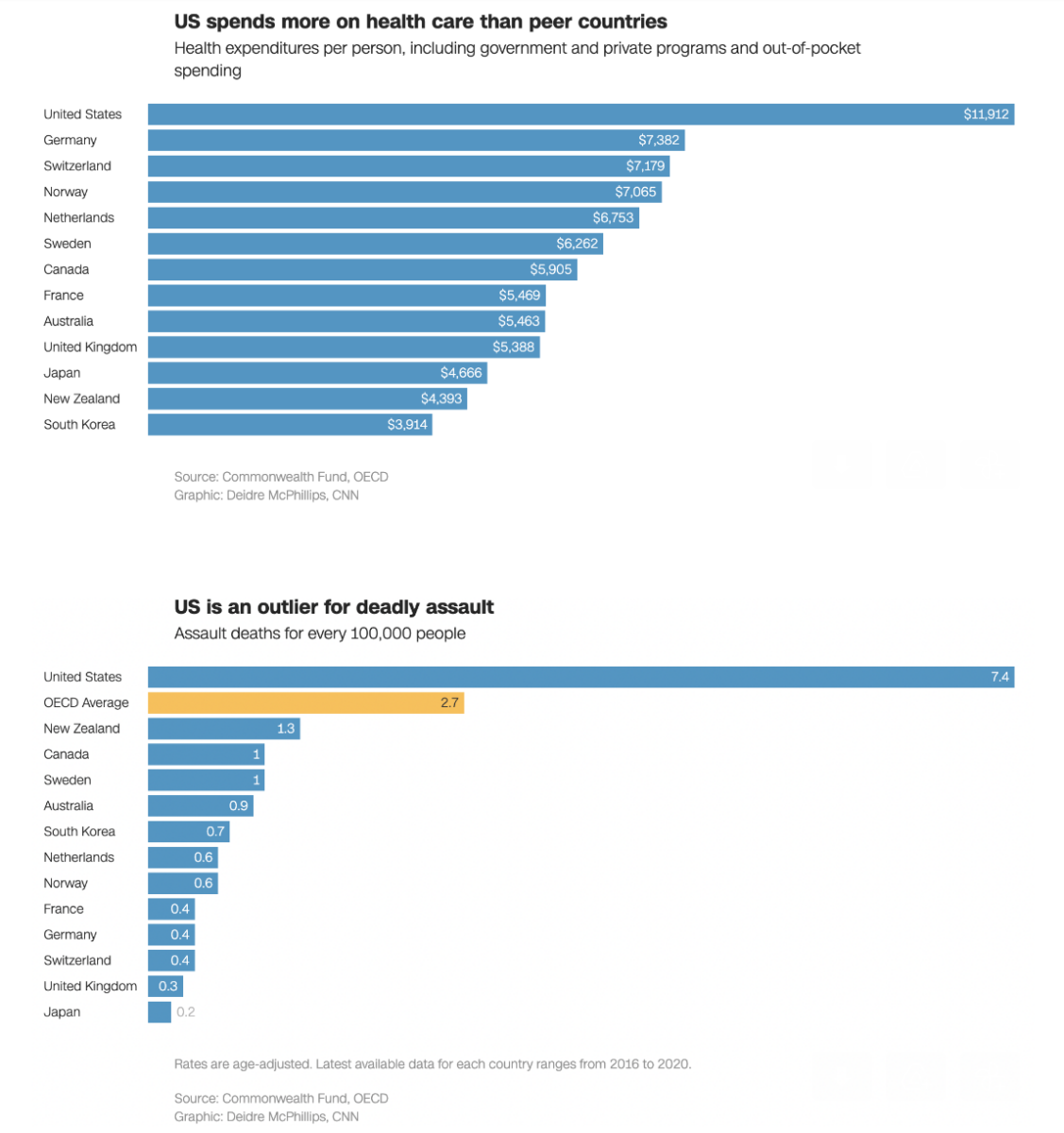 Source: CNN
Sign up for our reads-only mailing list here.
~~~
We will at the ETF conference in Miami next week; no reads Monday, Tuesday or Wednesday…