My back-to-work morning train WFH reads:
• Silicon Valley Confronts the End of Growth. It's a New Era for Tech Stocks. Silicon Valley could use a reboot. The biggest players aren't growing, and more than a few are seeing sharp revenue declines. Regulators seem opposed to every proposed merger, while legislators push for new rules to crack down on the internet giants. The Justice Department just can't stop filing antitrust suits against Google. The initial public offering market is closed. Venture-capital investments are plunging, along with valuations of prepublic companies. Maybe they should try turning the whole thing on and off. (Barron's)

• Why It's So Hard for China to Shake the 'Uninvestable' Tag: In 2021, Goldman Sachs said the word was starting to feature in a number of client conversations about the country's stocks. When JPMorgan Chase analysts last year described Chinese internet companies as "uninvestable," their report helped erase about $200 billion from US and Asian markets. (Bloomberg) see also How Much is the Rule of Law Worth to Markets? Can you imagine if POTUS was going to quash the biggest US IPO of all time — not with a tweet, but with the full force of the Federal Government? This is a risk factor from China. With its long history of insularity, they probably have gotten all they need from the West; they have plenty of capital, they just need to sell into our markets. There is a real possibility that China will soon be uninvestable to outsiders. (The Big Picture)

• A Short History of Interest Rate Cycles: A lot of investors fell in love with the idea of long-term bonds over the past 20-30 years because they generally provided much higher returns and cushioned the blow during most stock market sell-offs…until last year that is. (A Wealth of Common Sense)

• On Wall St., 'Socially Responsible' Is Common Sense. In Congress, It's Political. Lawmakers are trying to restrict these investment choices in workplace retirement plans, but big fund managers are trying to give shareholders a voice. (New York Times)

• The Perks Workers Want Also Make Them More Productive: The pandemic, combined with a strong labor market, means even more changes could be coming. Many U.S. states are moving towards mandatory, paid family and sick leave for all workers. Meanwhile, companies are flirting with a four-day workweek in pilot programs worldwide, including in the U.S. (FiveThirtyEight)

• When Suburbs Go to War With Transit: A battle over building a housing development near a Baltimore light rail station illustrates why it's so hard to make viable public transportation in the suburbs. (CityLab)

• No More Passwords: How to Set Up Apple's Passkeys for Easy Sign-ins Introduced in iOS 16, passkeys eliminate passwords for supported apps and websites, instead letting you sign in with Face ID or Touch ID. (PC Mag)

• How does the brain age across the lifespan? New studies offer clues. Our brains are built to change over our lifetime, meeting the challenges set by every life stage. (Washington Post)

• When covid politics collides with covid science, public health loses: Quick takes about what works and what didn't obscures the inherent uncertainty of the scientific process, eroding trust in science. (Grid)

• The Best One Hit Wonders Of The '90s, According To Reddit: Nostalgia for the 1990s has hit an all time high, and Reddit wanted to remember some great songs from artists who never had another hit in their careers.  (Digg)
Be sure to check out our Masters in Business interview this weekend with Dr. Maria Vassalou, chief investment officer of multi-asset solutions at Goldman Sachs Asset Management. She was a Professor of Finance at Columbia Business School where her academic research led her to establish many of the investment principles she employs today. At Columbia, she did consulting work for numerous institutions before joining Soros Capital Management and S.A.C. Capital Advisors.
Private Equity Outlook in 2023: Anatomy of a Slowdown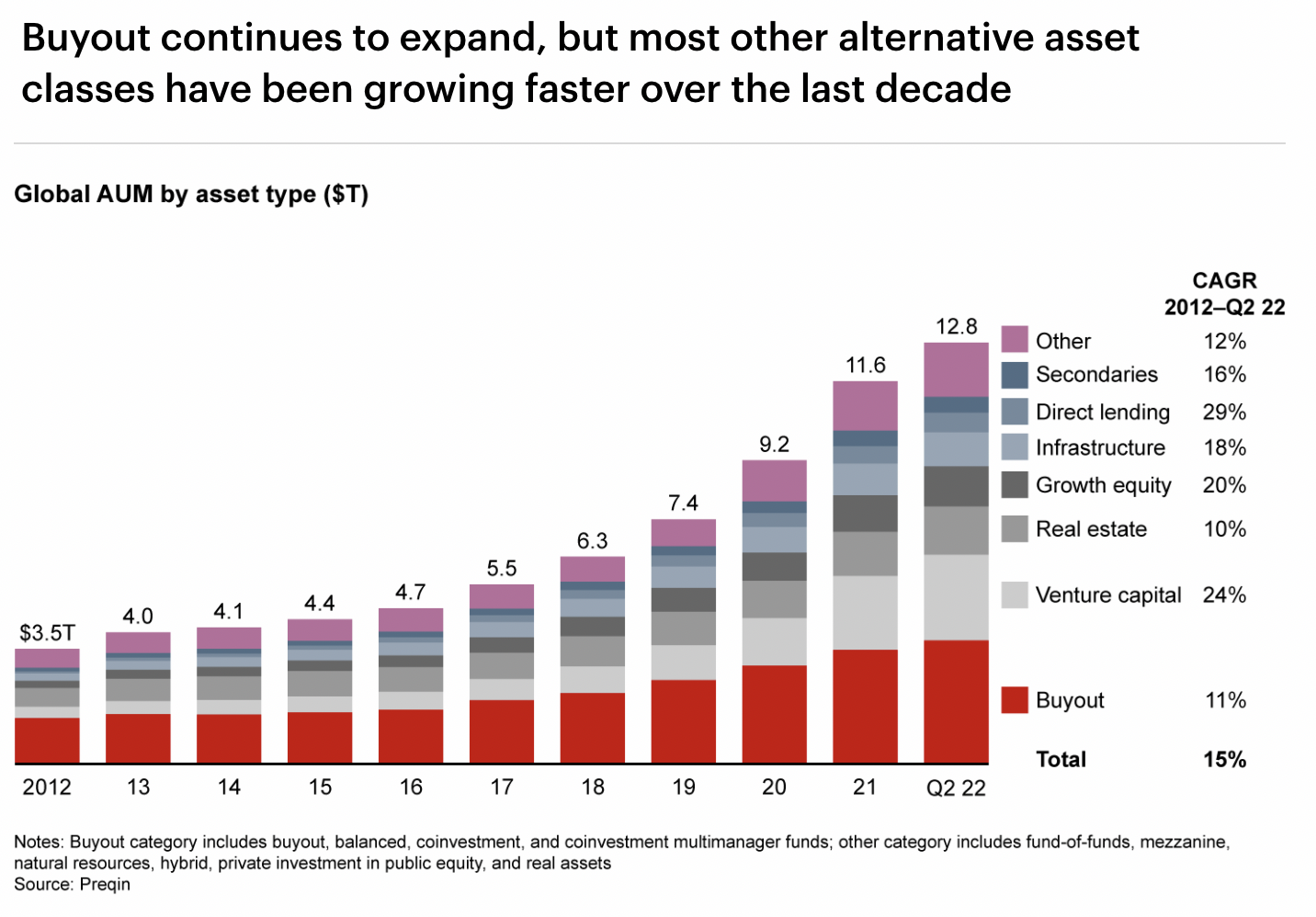 Source: Bain
Sign up for our reads-only mailing list here.