My Memorial Day morning reads:
• Memorial Day—for All Americans: We may disagree with one another about our vision for our country, but so did the soldiers, sailors, airmen, and Marines we honor today. (The Bulwark)

• China's hypersonic missiles threaten US power in the Pacific: An aerospace engineer explains how the weapons work and the unique threats they pose: Chinese researchers claimed in a May 2023 research journal report that the country's hypersonic missiles could destroy a U.S. carrier group "with certainty." This capability threatens to sideline U.S. aircraft carrier groups in the Pacific, potentially shifting the strategic balance of power and leaving the U.S. with limited options for assisting Taiwan in the event China invades.  (The Conversation) see also Japan's New Military Might Is Rising in a Factory in Hiroshima As the country rearms, the city of peace once again becomes a defense hub. (Businessweek)

• What's going on with US car insurance? The pressures on auto-insurance profitability have been caused mostly by unexpected "severity" rather than "frequency". That means insurers aren't paying out on policies more often, but they are paying higher amounts. To put it simply: It's not because more car accidents are happening, but the insurers' average cost of car accidents (both those that are already paid and those that they expect to pay) are higher. (Financial Times)

• The Pandemic-Era Tax Break Keeping the IRS Up at Night: The IRS is struggling to process hundreds of thousands of claims for the employee-retention tax credit amid worries about fraud. (Wall Street Journal)

•  There's Still Scary Stuff in Sunscreen: Endocrine disrupters and other potentially dangerous ingredients persist despite FDA concerns. (Businessweek)

• The Birth of the Grid: Electricity's transition from a luxury good to the foundation of modern life happened quickly. By 1930, electricity was available in nearly 70% of US homes, and supplied almost 80% of industrial mechanical power. By 1950, the US was tied together by an enormous network of high-voltage transmission lines. (Construction Physics)

• Imagine a Renters' Utopia. It Might Look Like Vienna. Soaring real estate markets have created a worldwide housing crisis. What can we learn from a city that has largely avoided it? (New York Times)

• How Biden got to yes on F-16s and Ukraine: The decision followed a flurry of activity in the weeks leading up to the G-7 meeting. (Politico)

• The deepening radicalization of Donald J. Trump: Watch how the former president's positions and rhetoric have grown more confrontational and extreme as he seeks a second term. (Washington Post) see also Why Trump Wants U.S. to Default on Debt: And why Biden now says he's "looking at" invoking the Fourteenth Amendment. (The Bulwark)

• 'It's new territory': Why is Betelgeuse glowing so brightly and behaving so strangely? After the 'great dimming', the closest red giant star to Earth is pulsating twice as fast as usual and lighting up the southern hemisphere's early evening sky. (The Guardian)
Be sure to check out our Masters in Business next week with John Hope Bryant, the founder and chief executive officer of Operation HOPE. The firm focuses on providing financial illiteracy as a way to address systemic issues for under-served individuals and small businesses. He is also the CEO of Bryant Group Ventures, and The Promise Homes Company. Bryant was named 2016 American Banker 'Innovator of the Year,' He has been an advisor to the last three sitting U.S. presidents.
A global deflation shock is coming: Stretched delivery times in 2021-22 are reversing and will drive goods deflation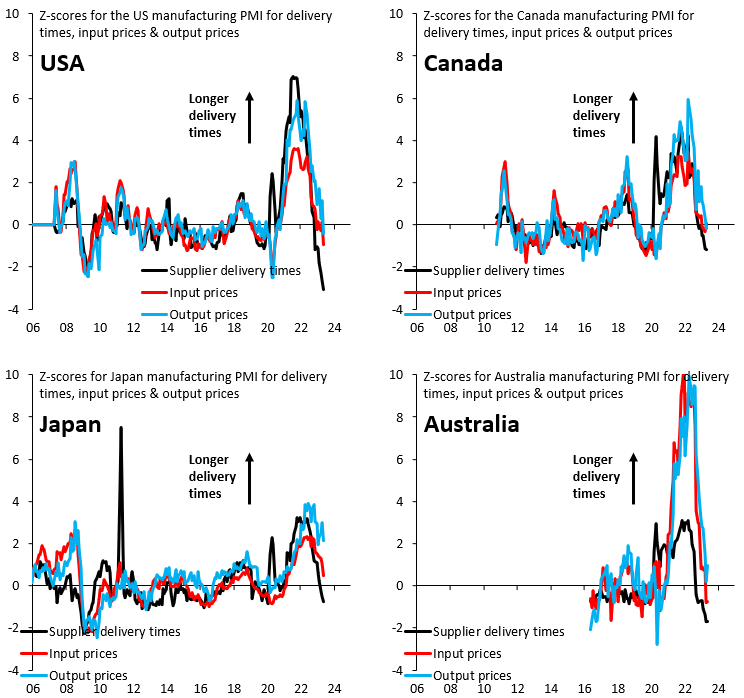 Source: @RobinBrooksIIF
Sign up for our reads-only mailing list here.