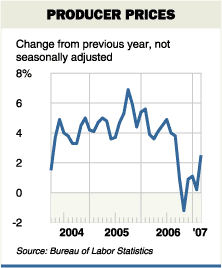 Given yesterday's eye-popping Producer Prices — the 12 months ending in February, overall wholesale prices rose 2.5%, the highest reading since August 2006 — there was some concern about today's Consumer Prices.
And with good cause: the headline number was plus 0.4%, higher than expected (0.3%). We are told there is "nothing to worry about here," though: Once we remove everything that has gone up in price, inflation remains contained. Core prices, excluding food and energy, increased only 0.2% in February.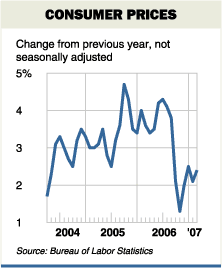 Consider that February prices for "crude
foodstuffs and feedstuffs" were up 18.8% above year-ago levels, its no surprise that food
companies are passing those higher costs to consumers. Wholesale
consumer food prices are 6.8% above year-ago levels. The WSJ noted that Energy prices increased by 0.9% in February, while Gasoline prices rose 0.3%. Natural gas prices swelled 5%. Those begging the Fed for a rate cut can forget about the next 2 FOMC meetings; Barring a full-blown market meltdown, cuts at those gatherings simply aint gonna happen.
Ahhh, inflation ex-inflation. Where would we be without you?
>
>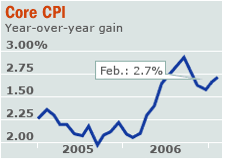 UPDATE: March 16, 2007 12:21pm
Note that the big drop in 2006 in PPI and CPI followed the change in GSCI energy exposure, when Oil dropped from $78 towards $50. It is now back near $60 . . .
>
Sources:
CONSUMER PRICE INDEX:  FEBRUARY 2007
News Release text
BLS, MARCH 16, 2007
http://www.bls.gov/news.release/cpi.nr0.htm
Producer Price Indexes — February 2007
News Release text
BLS, MARCH 15, 2007
http://www.bls.gov/news.release/ppi.nr0.htm
U.S. Consumer Prices Rise 0.4% Amid Higher Food, Energy Costs
BRIAN BLACKSTONE
WSJ, March 16, 2007 8:53 a.m.
http://online.wsj.com/article/SB117404787807739330.html
U.S. Wholesale Prices Rise 1.3% As Food, Energy Costs Jump
BRIAN BLACKSTONE
WSJ, March 15, 2007 9:35 p.m.
http://online.wsj.com/article/SB117396175489038079.html