A note about Sunday reads: Normally, these are a cross section of policy, investing, economics, technology, arts, sports, etc. But these are not normal times, with the news is dominated by Coronavirus and the botched U.S. response to it.
Rather than let these Sunday reads become an exercise in negativity, they are now in two parts: Part 1 are upbeat, positive links to get help you get through these difficult times; Part 2 are the news stories of incompetence and corruption. Those negative now will get pushed below the jump. Read them, skim them, skip them entirely: your choice. Above all, stay safe! 
~~~
My easy like Sunday morning reads:
• FAQ: Coronavirus unemployment guide: What to do if you get laid off or furloughed (Washington Post)
• Millions Are Suddenly Working From Home. Can They Claim a Tax Break? (Wall Street Journal)
• The Cuomo brothers put on quite a show. (Washington Post)
• This Time is Different (The Belle Curve)
• How to Have a Social Life While Practicing Social Distancing (Real Simple) see also Apart, together (The Bellows)
• These Coronavirus Exposures Might Be the Most Dangerous (New York Times)
• Streaming spikes during pandemic lockdown (Axios)
• A Forest Submerged 60,000 Years Ago Could Save Your Life One Day (New York Times)
• Three shifts at the Scrabble factory: The inventor (VT Digger)
• (LOL) How to Buy a Private Jet (Worth)
Be sure to check out our Masters in Business interview this weekend with Jonathan Miller (of Miller Samuel), discussing the impact of the Coronavirus pandemic on the national real estate industry.
Randall Bell's Bell Disaster Index Shows We Will Survive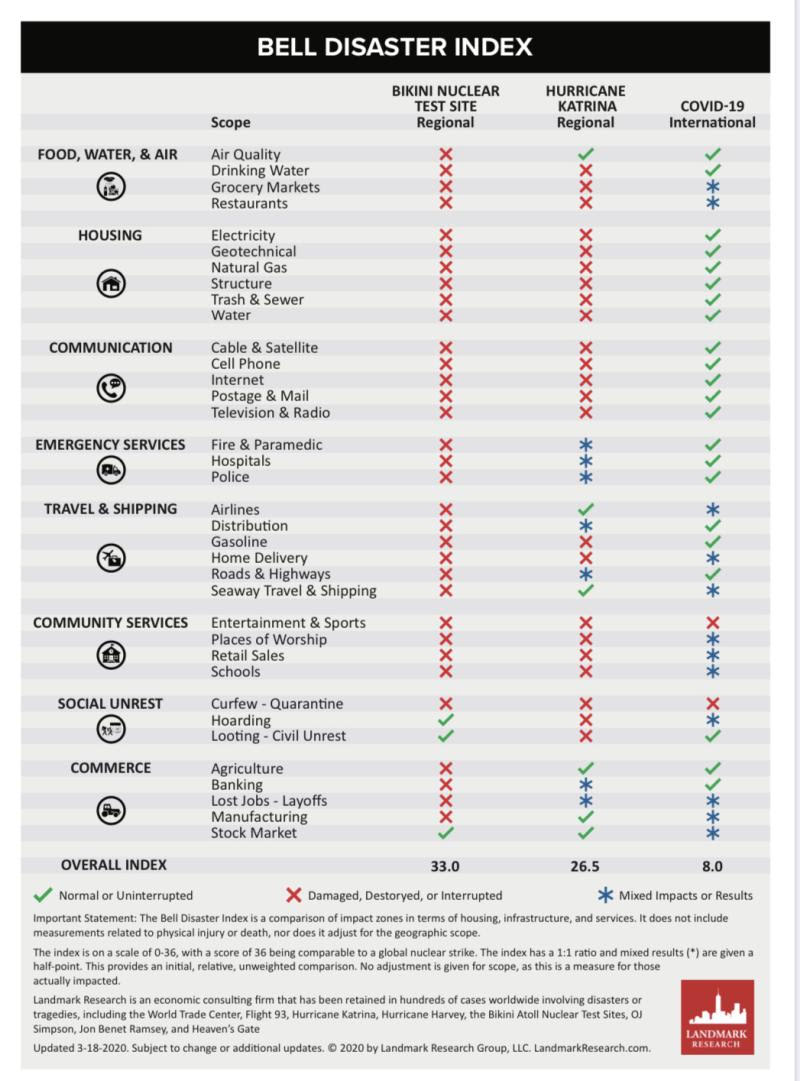 Source: LinkedIn h/t Jonathan Miller
Sign up for our reads-only mailing list here.