Some belated morning reads (blame Anna for partying too late on a school night!):
• Very slow growth 2012 then long bear to 2020 (Market Watch)
• BofA Warned to Get Stronger (WSJ) see also 'Lazy' Banks Make Sense (WSJ)
• EU/ECB Two-fer:
…..-Why the ECB Won't (and Shouldn't) Just Print (Hussman Funds)
……–Johnson: Deutsche Bank Could Transfer Financial Contagion (Bloomberg)
• Baum: Supercommittee Fails to Identify Even Bogus Cuts (Bloomberg)
• Economic inequality is growing, a Fed blog says (LA Times)
see Fed Study: Job Polarization in the United States (Fed NY)
• Debtor Arrests Criticized (WSJ)
• Tavakoli: MF Global Revelations Keep Getting Worse (Jesse's Cafe Americain) see also Legal Stealing  Infamous CFTC Rule 1.29 (The Golden Truth)
• Apple May Have Won The PC War… By Losing The Windows Battle (Tech Crunch) see also The MacBook Pro Shrinks, iPad And iPhone Grow (Tech Crunch)
• Separating You and Me? 4.74 Degrees (NYT)
• Top 10 Things We Learned about David Letterman in Rolling Stone (Parade)
What are you reading?
>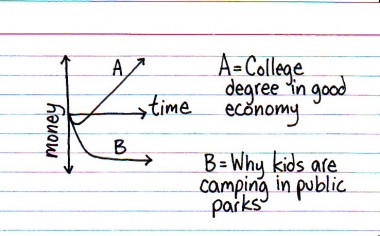 Via Indexed