I know that most of you on the East Coast are hunkered down, stuck indoors as the blizzard approaches. As I write this, NYC has 2-4 inches of accumulation, with another foot expected. Pour yourself a mug of hot joe, and settle in for our longer form weekend reads:
• Perceptions vs Reality: Fear vs Reason (Bill Ehrman)
• How Zano Raised Millions on Kickstarter and Left Most Backers with Nothing (Medium)
• The FANG Playbook (Stratechery) see also Silicon Valley's $585 Billion Problem (Fortune)
• How Voltaire Made a Fortune Rigging the Lottery (Today I Found Out)
• The poisoning of Flint (Washington Post)
• How close are we to creating artificial intelligence? (Aeon)
• This Football Helmet Crumples—and That's Good (Bloomberg)
• The political right's dangerous support for economic quackery (Mainly Macro) see also The Republican Establishment Is Losing at Its Own Game (The Upshot)
• Alexander Litvinenko: the man who solved his own murder (The Guardian)
• Rolling Stone #196: The Eagles (The Uncool)
Be sure to check out our Masters in Business interview this weekend with public space expert and developer Dan Biederman of Bryant Park Corporation and Biederman Ventures.
Existing Home Sales, December 2015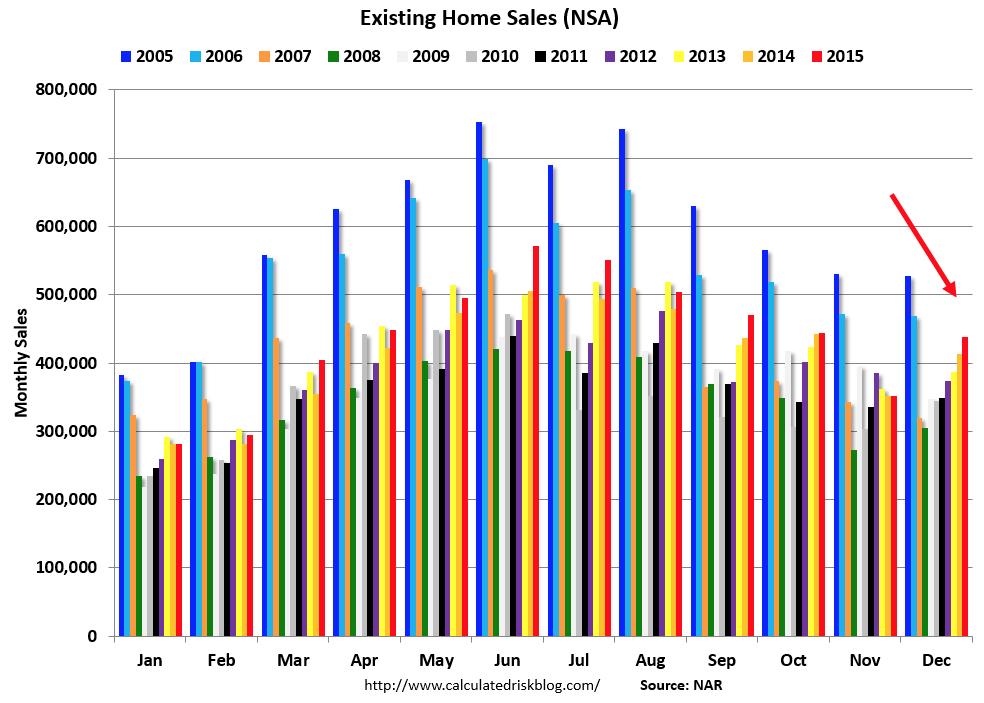 Source: Calculated Risk