Pour yourself some Porto Rico house blend, get comfy in your favorite chair, and settle in for our longer form weekend reads:
• The Market is Always Right? (Pension Partners)
• Johny Srouji, Cupertino's chief chipmaker, is the Most Important Apple Executive You've Never Heard Of.(Bloomberg)
• The law that created the billion-dollar scaffold industry has turned city sidewalks into an obstacle course (Crain's New York)
• How America Is Putting Itself Back Together: Most people in the U.S. believe their country is going to hell. But they're wrong. What a three-year journey by single-engine plane reveals about reinvention and renewal. (The Atlantic)
• Secret Lives of Tumblr Teens: That feeling when you hit a million followers, make more money than your mom, push a diet pill scheme, lose your blog, and turn 16.  (New Republic) see also Today's teens are better than you, and we can prove it (Vox)
• The Mind's Biology: Doctors are reaching past the symptoms of mental illness to fix the circuits that breed them (Washington Post)
• Untold Casualties of the Drone War: Former members of the U.S. drone program expose the hidden price of remote control combat (Rolling Stone)
• How BuzzFeed's Jonah Peretti Is Building A 100-Year Media Company (Fast Company)
• A Country Breaking Down (NY Review of Books) see also The Long and Crumbling Road (New Republic)
• What Sparked the Cambrian Explosion?An evolutionary burst 540 million years ago filled the seas with an astonishing diversity of animals. The trigger behind that revolution is finally coming into focus (Scientific American)
Be sure to check out our Masters in Business interview this weekend with restaurant labor expert Saru Jayaraman on the demise of tipping and the minimum wage.
Raw Material Prices Slip to 25-Year Low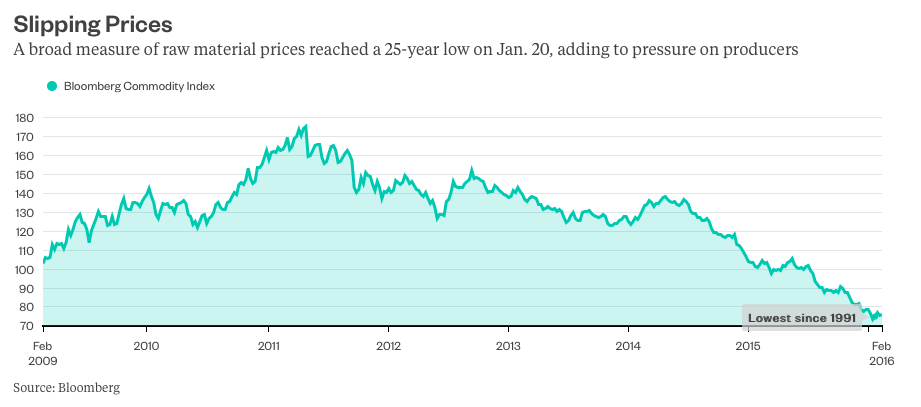 Source: Bloomberg