Fresh from the Pearl district in Portland Oregon are our west coast sourced, morning train bike reads:
• What Crisis? Big Ratings Firms Stronger Than Ever (WSJ) see also Moody's to Pay CalPERS $130M for 'Negligent' Ratings (Chief Investment Officer)
• Should I Buy Diamonds, Wine or Picasso? (Gadfly)
• No, Subprime Auto Loans Are Not Like Subprime Mortgages (Bloomberg View) see also Subprime Flashback: Early Defaults Are a Warning Sign for Auto Sales (WSJ)
• Confronting the Fiscal Bogeyman (project-syndicate)
• Most Americans Say Government Doesn't Do Enough to Help Middle Class (Pew Research)
• Chris Rock Explains Bias Blindness (Above the Market)
• Modeled After Ants, Teams of Tiny Robots Can Move 2-Ton Car (NYT)
• Surprise! NSA data will soon routinely be used for domestic policing that has nothing to do with terrorism (Washington Post)
• Say "Hello" to the Era of the One-Word Song Title (Priceonomics)
• Why daylight saving time isn't as terrible as people think (Wonkblog)
Be sure to check out our Masters in Business interview this weekend with Jack Bogle, founder of the Vanguard Group and inventor of the index fund.
Mutual Funds Are Souring on Some Startups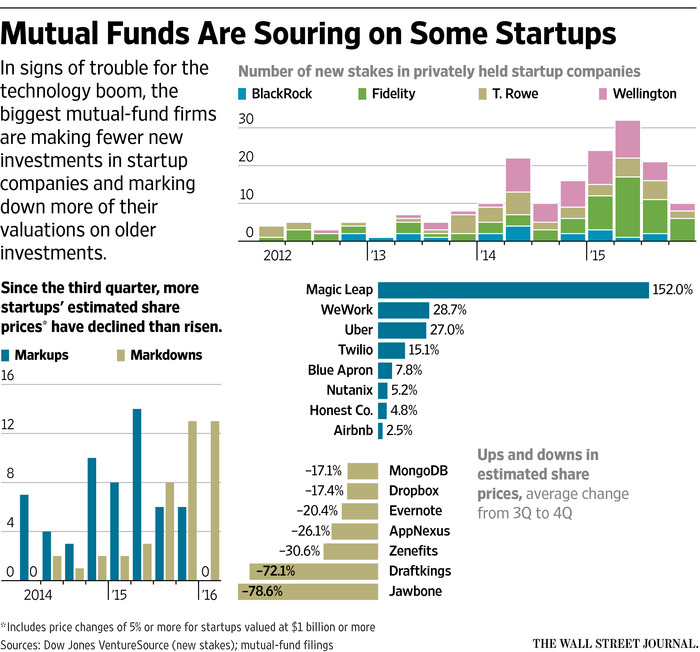 Source: WSJ