Pour yourself a cup of 7 Virtues coffee, settle into to your favorite easy chair, and get ready for another round of our finest longer form weekend reads:
• Bridgewater, World's Largest Hedge Fund, Grapples With Succession (WSJ)
• Adam Neumann's $16 Billion Neo-Utopian Play To Turn WeWork Into WeWorld (Fast Company)
• How GE Exorcised the Ghost of Jack Welch to Become a 124-Year-Old Startup (Bloomberg)
• Inside Apple CEO Tim Cook's Fight With the FBI (Time)
• McClean: Mend, Don't End, Fannie and Freddie (Washington Monthly)
• When U.S. air force discovered the 'flaw' of averages (Toronto Star)
• Why Life Insurance Loans Are A Risky Way To Bank On Yourself (Kitces)
• David Maraniss and Robert Samuels spent a month crossing the country to try to figure out what has U.S. voters so bent out of shape. A four-part series: The great unsettling (Washington Post) see also The Paranoid Style in American Politics (Harper's)
• Economists of the World, Unite! The American Economic Association's little-known radical past—and its relevance in this post-Piketty moment. (Democracy)
• 10 Years Over the Red Planet (Slate)
Be sure to check out our Masters in Business interview this weekend with Vanity Fair's Bethany McLean, author of The Smartest Guys in the Room: The Amazing Rise and Scandalous Fall of Enron.   
Time to $1B Valuation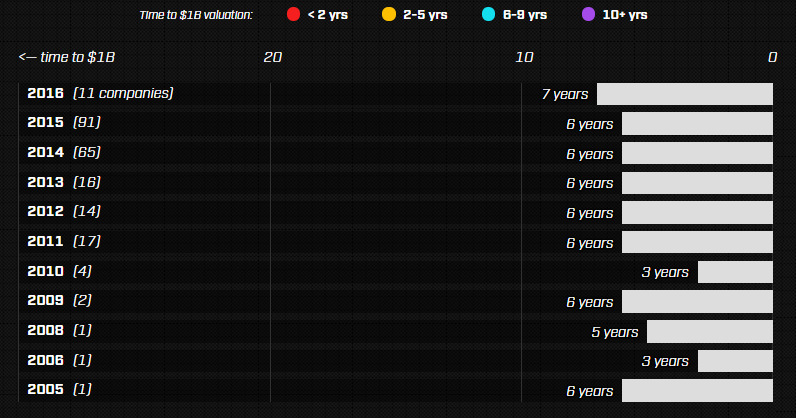 Source: Visual Capitalist