The weekend is here! Pour yourself a mug of French Roast coffee, grab a comfy seat, and get ready for our longer form weekend reads:
• Uncanny Valley: I would say more, but I signed an NDA. (N+1)
• Trumpology: A Master Class. There are five people who've gone deeper on The Donald than anyone else alive. We brought them together for the definitive conversation about who he really is. (Politico)
• Q&A With Christine Lagarde: Finance's Firefighter Wants to Be Its Architect (Bloomberg)
• Fixing the American Commute: We blame cars for transportation woes, but can new technology turn them into saviors? (Curbed)
• In an Age of Privilege, Not Everyone Is in the Same Boat: Companies are becoming adept at identifying wealthy customers and marketing to them, creating a money-based caste system. (NYTimes)
• A Leak Wounded This Company. Fighting the Feds Finished It Off (Bloomberg BusinessWeek)
• San Francisco's long shadow The nation's biggest housing winners and losers live only 80 miles apart  (Washington Post)
• What Caused the Great Crime Decline in the U.S.? After decades of soaring levels of homicides and drug violence, the country's crime rate plunged dramatically over the last 25 years. (The Atlantic)
• The Art of Larry Gagosian's Empire (WSJ) but see also The Big Fake: Behind The Scenes Of Knoedler Gallery's Downfall (Art News)
• Why you shouldn't exercise to lose weight, explained with 60+ studies (Vox)
Be sure to check out our Masters in Business interview this weekend with Kelly Coffey, CEO of JPM Private Bank, which manages more than $650 billion in assets.
Warren Buffett's Long Road Back Into Manufacturing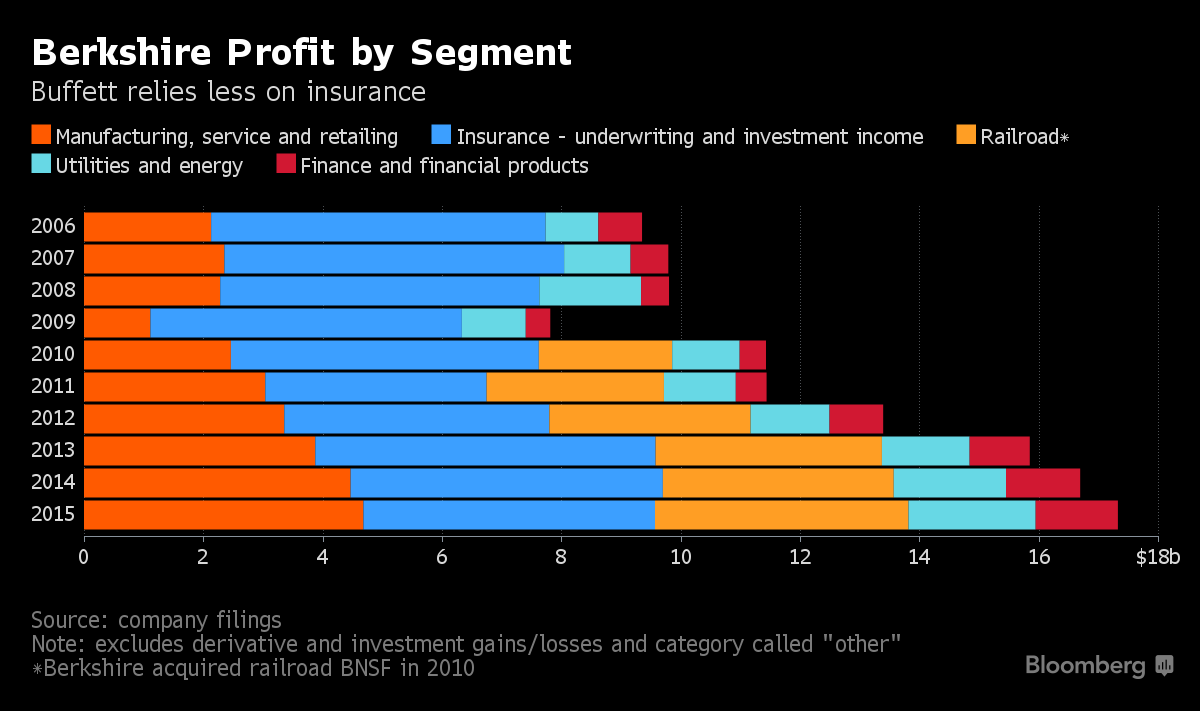 Source: Bloomberg