My morning train vacation reads:
• El-Erian: 3 Things to Know About Record-Low U.S. Yields (Bloomberg View)
• Gold Breaks Out as Brexit Hits European Currencies (Barron's)
• How Brexit Is Likely to Keep Beating Up Emerging Markets (Real Time Economics)
• Swedroe: A New Factor-Based Approach to Classifying and Measuring the Performance of SRI Mutual Funds (MutualFunds.com)
• When Stocks Give You Nothing (Motley Fool) see also Stocks Slide With Pound Amid Renewed Worries Over Global Growth (Bloomberg)
• Can post-Brexit London retain its crown as a global hotspot? (Telegraph)
• Don't Ask your Barber if you need a haircut (A Teachable Moment)
• America's Trade Deficit Wasn't Always a Jobs Killer. But It Is Now. (Slate) but see Job Training Works. So Why Not Do More? (NYT)
• Swing State Polls And National Polls Basically Say The Same Thing (fivethirtyeight)
• By Jove: NASA Says Juno Craft Is Orbiting Jupiter (NPR) see also The incredible things that had to go just right for Juno to reach Jupiter (Quartz)
What are you reading?
Corporate-earnings results could be next big catalyst for US stocks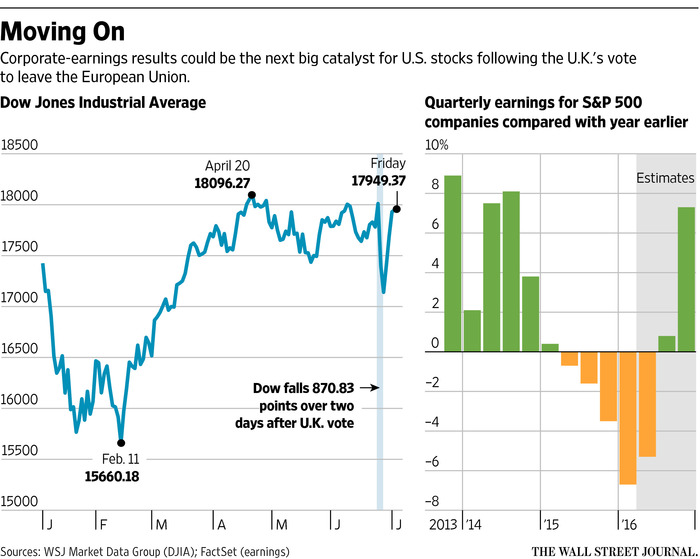 Source: WSJ