The weekend is here! Pour yourself a mug of French Press coffee, grab a seat on a swinging chair, and get ready for our longer form weekend reads:
• GMO's Mean-Reversion Strategy Is Tested in Today's Market (Institutional Investor)
• Silicon Is Just Sand: Money, murder, and sadomasochism.  A journey into the hidden world of the Los Angeles tech boom. (Epic)
• Elon Musk Says It's 'Pencils Down' for Tesla's Model 3 (Bloomberg) see also Why Do We Haggle For Cars? (Priceonomics)
• Confessor. Feminist. Adult. What the Hell Happened to Howard Stern? (NYT Mag)
• Michael Lewis on The King of Human Error (Vanity Fair)
• The Case Against the Media, by the Media (NY Mag)
• What Does the Average Cannabis Consumer Look Like? (Headset)
• A Grand and Disastrous Deceit: The Report of the Iraq Inquiry (London Review of Books)
• A Republican intellectual explains why the Republican Party is going to die (Vox) see also How Donald Trump Broke The Conservative Movement (And My Heart) (Buzzfeed)
• A Fish So Coveted People Have Smuggled, Kidnapped, and Killed For It (Longreads)
Be sure to check out our Masters in Business interview this weekend with Gianni Kovacevic, a venture capital investor and energy expert, who just drove a Tesla cross country  – from Toronto, to Boston on to Florida, then across country to the Tesla factory in California.
How long can the Fed ignore the uptrend in inflation?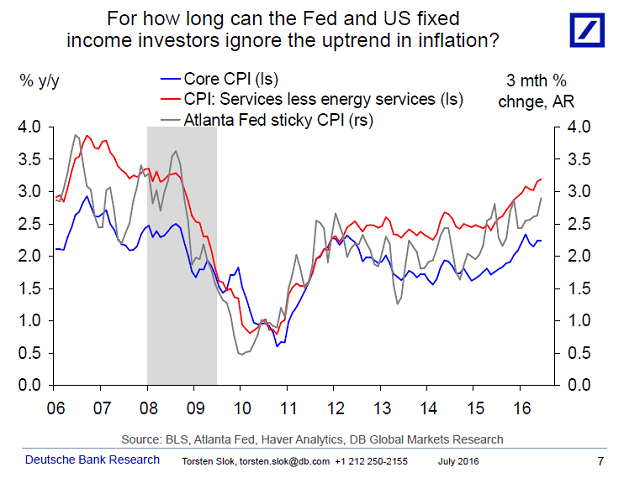 Source: Deutsche Bank Securities