My easy like Sunday morning reads:
• 'We're the Only Plane in the Sky' Where was the president in the eight hours after the Sept. 11 attacks? The strange, harrowing journey of Air Force One, as told by the people who were on board. (Politico)
• How Much Do We Really Know About Global Trade's Impacts? (NYT Magazine)
• How Portfolio Construction Affects Value Funds (Alpha Architect)
• Faith in the Market Is Our National Religion, Says Theologian Harvey Cox (Religion Dispatches)
• What Happens in the Brain When We Misremember (SciAm)
• The states with the biggest Obamacare struggles spent years undermining the law (LA Times)
• Timeline of Trump's comments on Iraq invasion: Not loud, not strong, and no headlines (Washington Post)
• Flooding of Coast, Caused by Global Warming, Has Already Begun (NYT)
• Economist Paul Krugman ponders the sci-fi economics of 'Star Trek' (Marketplace)
• Here Are the 12 Best Ann Coulter Burns from the Comedy Central Roast (Esquire)
Be sure to check out our Masters in Business interview this weekend with impact investor Matthew Weatherley-White of the Caprock Group.
Profit Swoon Resumes as GDP Is Revised Down Slightly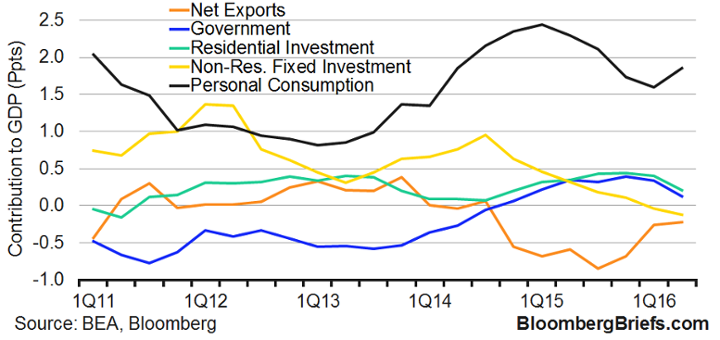 Source: BloombergBrief
Want to receive our daily reads in your inbox? Sign up here!