The weekend is here! Pour yourself a mug of Verona coffee, sit up in bed, and get ready for our longer form weekend reads:
• How to hide it: inside the secret world of wealth managers. They are the brains behind the most ingenious tax avoidance schemes. And there are more of them than ever (Guardian)

• Amazon Says It Puts Customers First. But Its Pricing Algorithm Doesn't. (ProPublica)

• How a pension deal went wrong and cost California taxpayers billions (LA Times)

• How FX became TV's best, most reliable network (Hit Fix) see also The Netflix Backlash: Why Hollywood Fears a Content Monopoly (Hollywood Reporter)

• Meet the California couple who uses more water than every home in Los Angeles combined (MoJo)

• Religion in US 'worth more than Google and Apple combined': Faith economy worth $1.2tn a year – more than combined revenues of 10 biggest tech firms in America, study shows (The Guardian)

• What's Really Ailing Hillary: A long time ago, Clinton was far more transparent, emotional and open than she is today. Then the media began slamming her—and didn't stop. (Politico)

• Welcome to the Dark Net, a Wilderness Where Invisible World Wars Are Fought and Hackers Roam Free (Vanity Fair)

• The Man. The Voice. The Stories.: Vin Scully has been broadcasting Dodgers games for 67 seasons. As he signs off this year, Jon Miller, Bud Selig, Bob Costas and 20 other colleagues and friends reflect on why a career like Scully's won't happen again. (ESPN)

• The Fattening – Did The Low-Fat Era Make Us Fat? (Frontline) see also How the Sugar Industry Buys Academia and Politicians (ProMarket)
JUST IN TIME FOR THE DEBATES!  Be sure to check out our Masters in Business interview this weekend with Michael Murphy, co-founder of the Right to Rise Super Pac and former campaign manager for Jeb Bush.
Dividend Plays Abound as S&P 500 Yields Beat Treasuries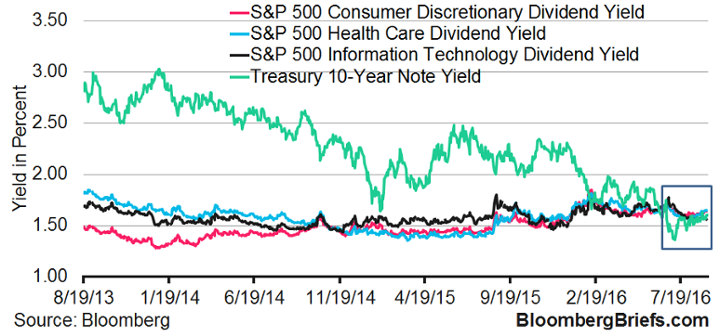 Source: Bloomberg Brief
Want to receive our daily reads in your inbox? Sign up here!