The weekend is here! Pour yourself a mug of illy coffee, grab a seat by the window, and get ready for our longer form weekend reads:
• Liquid assets: how the business of bottled water went mad (The Guardian)
• Want to Learn Way Too Much About Stock Market Factors? Read This Paper. (Alpha Architect)
• Sam Altman's Manifest Destiny: Is the head of Y Combinator fixing the world, or trying to take over Silicon Valley? (New Yorker)
• Super Size: The Dizzying Grandeur of 21st-Century Agriculture (NYT Magazine)
• World Wide Cage: Technology promised to set us free. Instead it has trained us to withdraw from the world into distraction and dependency (Aeon)
• The science (and business) of sleep: Tech companies have joined the multi-billion dollar rush to help us get a better night's rest. Are they making a difference? (Curbed)
• 'Obama bros' learn to love Hillary: By artfully trashing Trump, four ex-White House aides help draw millennials to Clinton. (Politico)
• Dispatches From the Rap Wars: My 18 months inside one of Chicago's most notorious gangs. (Chicago Mag)
• How Rock and Roll Became White: And how the Rolling Stones, a band in love with black music, helped lead the way to rock's segregated future. (Slate)
• Donald Trump Is Tearing the NFL Apart: Fights. Friendships ended. Racial divides. B/R Mag's examination of the football locker room electorate reveals that America's most popular sport is just as politically divided as the nation itself (Bleacher Report)
Be sure to check out our Masters in Business interview this weekend with Martin Barnes, Chief Economist at BCA Research.
What sectors, styles, and strategies are working in 2016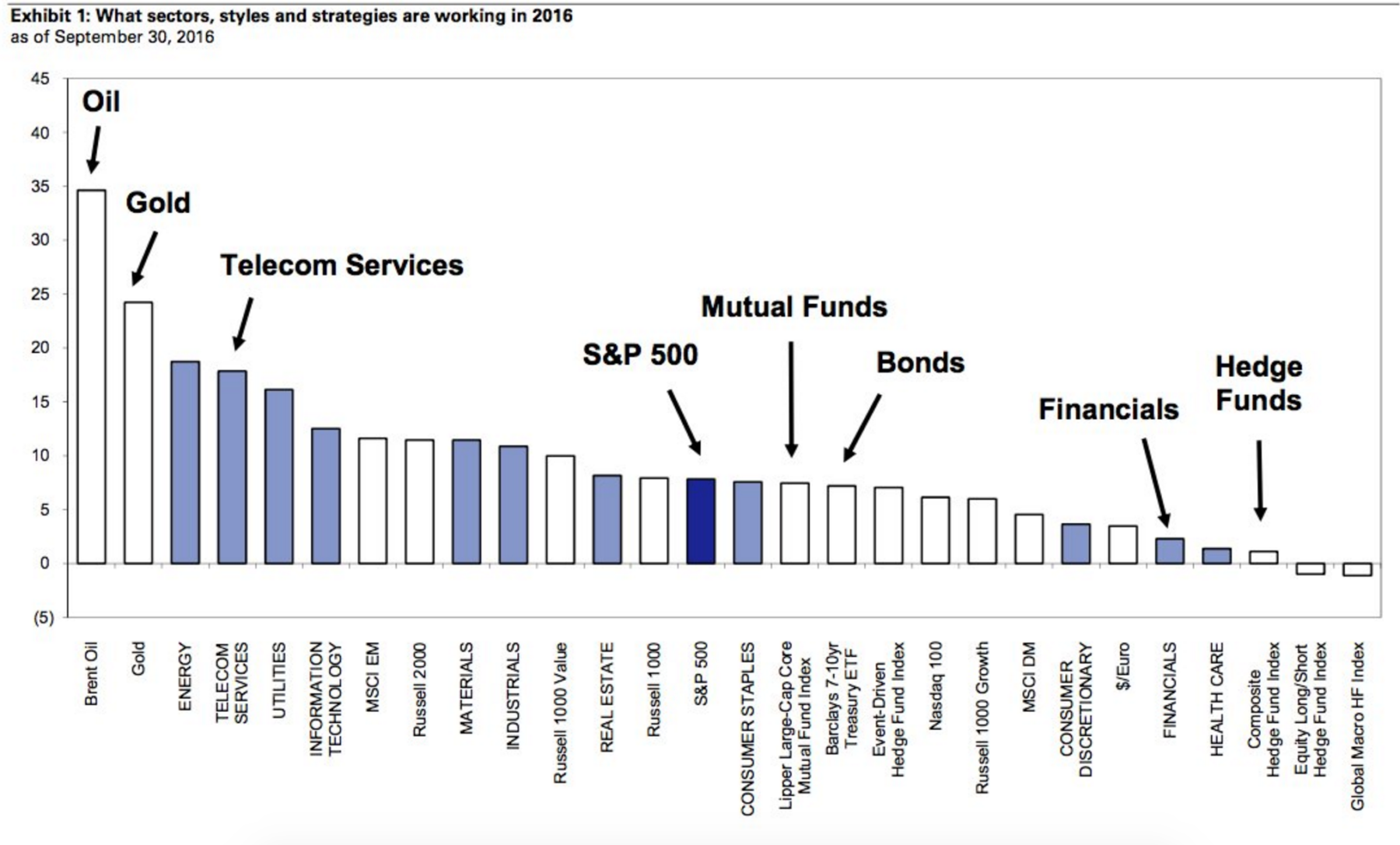 Source: Goldman Sachs via @bySamRo
Want to receive our daily reads in your inbox? Sign up here!