The weekend is here! Pour yourself a mug of dark coffee, grab a seat, and get ready for our longer form weekend reads:
• Think Your Retirement Plan Is Bad? Talk to a Teacher (New York Times)
• Inside Billionaire Steve Cohen's Comeback (Fortune) but see Is Bill Ackman Toast? After a horrible year, the hedge-fund mogul's adversaries seem to be plotting his demise. But does Ackman have a comeback left in him? (Vanity Fair)
• How to Get Rich: A Talk By Jared Diamond (Edge)
• The power of prediction markets: Scientists are beginning to understand why these 'mini Wall Streets' work so well at forecasting election results — and how they sometimes fail. (Nature)
• Are Wet Wipes Wrecking the World's Sewers? (The Atlantic)
• Smartphone Addiction: The Slot Machine in Your Pocket (Spiegel) see also The scientists who make apps addictive (1843)
• Hating Hillary: America's probable next president is deeply reviled. Why? (Economist)
• When Trump goes looking for a media brawl, this feared lawyer steps in (Washington Post)
• The Fantastic Ursula K. Le Guin: The literary mainstream once relegated her work to the margins. Then she transformed the mainstream. (New Yorker)
• No More Questions: Call Bill Belichick what you want, but these accounts of his uncompromising life — from prodigy to professional ballbuster — reveal why history might one day call him the greatest. (ESPN)
Be sure to check out our Masters in Business interview this weekend with Bill McNabb, CEO and chairman of the Vanguard Group, which now manages $4 trillion.
English version of Wikipedia gets more than six times as many page views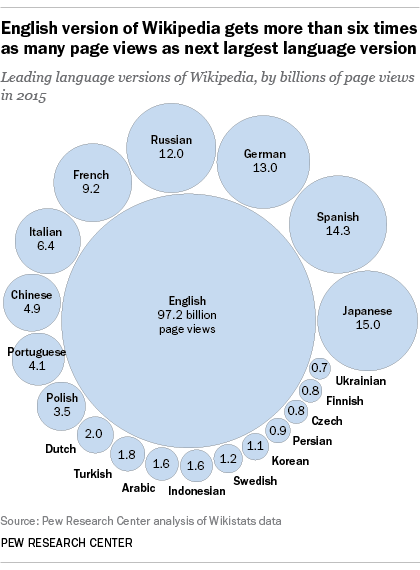 Source: Pew Research
Want to receive our daily reads in your inbox? Sign up here!