The weekend is here! Pour yourself a mug of Danish Blend coffee, grab a seat on the settee, and get ready for our longer form weekend reads:
• Twitter's 'Firehose' of Tweets Is Incredibly Valuable—and Just as Dangerous (Bloomberg)
• Chipotle Eats Itself: Chipotle Mexican Grill was a sizzling business with a red-hot stock until an E. coli outbreak derailed its future. Can a mission-based company make gobs of money and still save the world? (Fast Company)
• The Cure for Cancer Is Data—Mountains of Data (Wired)
• Economic history: ideas that built the world. Liberalism made us brave, bold—and rich, argues Deirdre McCloskey (Prospect)
• Bookish Fools: The book has always been a sign of status and refinement; a declaration of self-worth – even for those who hate to read (Aeon) see also Is It Story That Makes Us Read? (Vulture)
• The Perils of Peak Attention: Two new books assess the quality of our digital lives: How do we shake off the village when we carry the world in our pocket? (New Republic)
• I Won $104 Million for Blowing the Whistle on My Company—But Somehow I Was the Only One Who Went to Jail (Mel)
• The Golden Age of Havana Is Now (Outside)
• Russell Baker, G.W. Bowersock, and David Bromwich On the Election (NY Review of Books)
• How Necking Shaped the Giraffe: The private life of the African giant offers a remarkable view on evolution. (Nautilus) see also Giant Genetic Map Shows Life's Hidden Links (Quanta)
Be sure to check out our Masters in Business interview this weekend with valuation expert Aswath Damodaran of NYU Stern, author of 11 books on investing, including the upcoming Narrative and Numbers: The Value of Stories in Business.
Estimates of lifetime taxes paid and projected benefits for sample couples retiring in 2020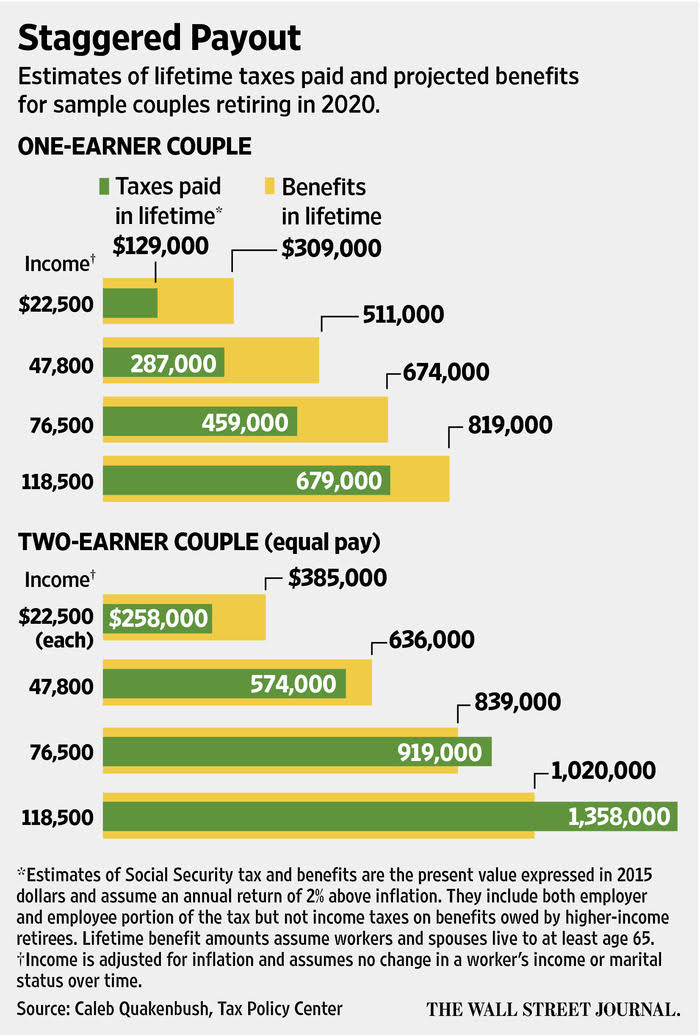 Source: WSJ
Want to receive our daily reads in your inbox? Sign up here!