I have busy day of site seeing ahead of me, but before I head out into the sunshine, some early morning reads:
• Americans — especially but not exclusively Trump voters — believe crazy, wrong things (Washington Post)
• Ten Economic Questions for 2017 (Calculated Risk) see also Three Economic Lessons From 2016 — And Three Questions For 2017 (FiveThirtyEight)
• Big Growth in Tiny Businesses U.S. companies that employ nobody but the owner soar, but some worry it won't help overall job growth (Wall Street Journal)
• Why Low Rates Failed to Boost Business Investment (Bloomberg View)
• Donald Trump's economic inheritance in 7 charts (Financial Times)
• It Was Going to Be the Year of the REIT (Gadfly) but see As Home Prices Rise, Flippers Make a Comeback (Wall Street Journal)
• Why You're Fooling Yourself About 'Fake News' (Talking Points Memo)
• HGTV Will Never Upset You: How the Network Beat CNN in 2016 (Bloomberg)
• America's electoral college and the popular vote (The Economist)
• Are You Solving the Right Problems? (Harvard Business Review)
What are you reading?
Economists forecast inflation will soon break through US and UK central banks' goals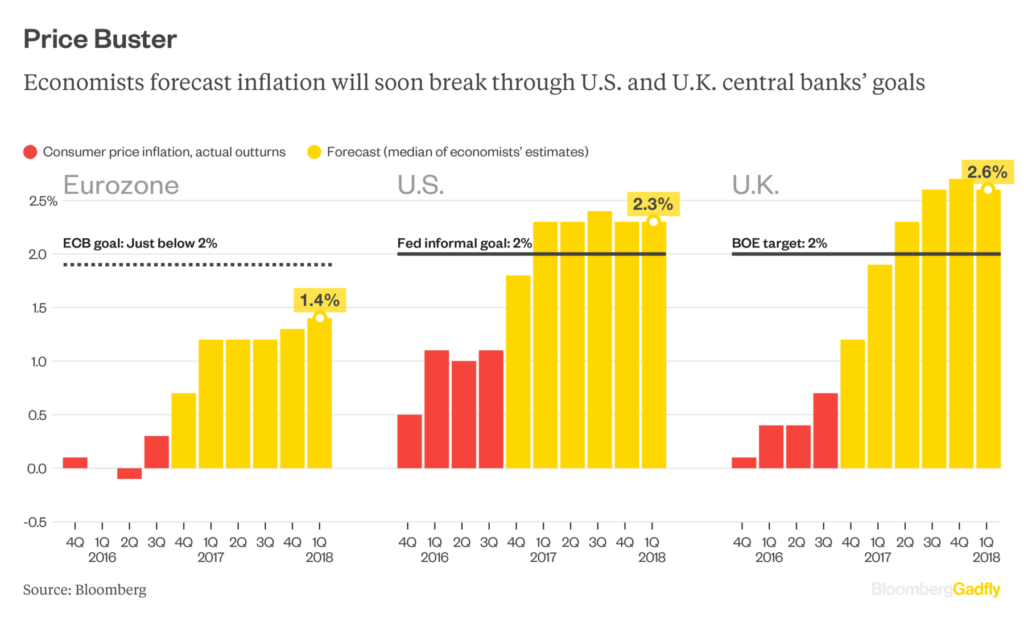 Source: Bloomberg Gadfly
Want to receive our daily reads in your inbox? Sign up here!