My easy like Sunday morning reads:
• We Are Not the World: From Brexit to Trump to the rise of nationalist parties across Europe, the old division between left and right is giving way to a battle between self-styled patriots and confounded globalists (Wall Street Journal)
• Keep Your Head Down, Hyundai (Bloomberg Gadfly) see also Trump Says 'No Way' to Toyota Plant in Mexico (Wall Street Journal)
•  The Growing Threat to Global Trade: a Currency War (Barron's)
• Republicans call Obamacare a 'failure.' These 7 charts show they couldn't be more wrong (LA Times)
• China Tripled Pace of Investment in U.S. in 2016, but Hurdles Loom (Real Time Economics) see also Bring Back Jobs From China? Shenzhen Isn't That Worried (Wall Street Journal)
• Corporations Need a New Reason to Be (Bloomberg View)
• Why are free-market conservatives silent on Trump's nominees? (Washington Post)
• Gut instinct: why more fat may be the best way to lose weight (Financial Times)
• Fate: Inventing Reasons for the Things That Happen (Committee for Skeptical Inquiry)
• George Lucas Can't Give His $1.5 Billion Museum Away (Bloomberg Businessweek)
Be sure to check out our Masters in Business interview this weekend with retail analyst Dana Telsey of the Telsey Advisory Group, looking at the major changes in retailing.
EM Recovery Just Starting After Five-Year Slowdown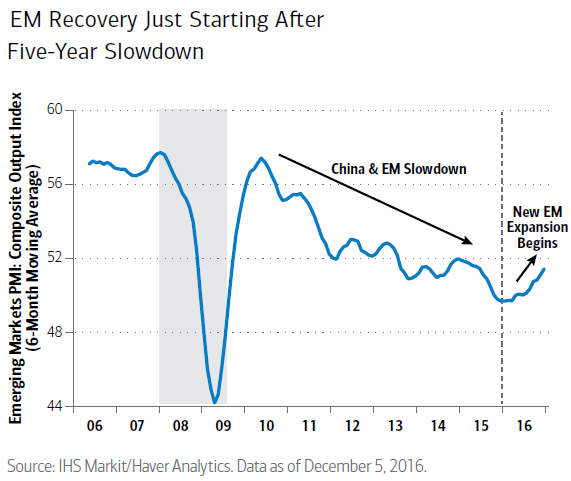 Source: BoAML
Want to receive our daily reads in your inbox? Sign up here!