My Easy like Sunday morning reads:
• Super Bowl Prediction: Wall Street Quants Are Taking the Falcons and the Points (MoneyBeat) but see The Patriots Are The NFL's Greatest Dynasty (FiveThirtyEight)
• Ed Thorp: the man who beat the casinos, then the markets (Financial Times)
• Progressive 'Fake News' Is on the Rise (The Atlantic)
• The phantom threat of terrorism (Boston Globe)
• A robotics expert predicts that kids born in 2017 will never drive a car (Quartz)
• Wilbur Ross and the Era of Billionaire Rule (Bloomberg Businessweek) see also This Astoundingly Complex Visualization Untangles Trump's Business Ties (Wired)
• The Radical Crusade of Mike Pence: Meet, quite possibly, the next president (Rolling Stone)
• Refugees are already vigorously vetted. I know because I vetted them. (Washington Post)
• Automation Is Coming for Our Porn Stars (Vice) see also The 'iTunes of Blowjobs' Launched Today (Vice)
• Why Sports Are a Terrible Metaphor for Business (Harvard Business Review)
Be sure to check out our Masters in Business interview this weekend with Sebastian Mallaby, author of "More Money Than God: Hedge Funds and the Making of a New Elite" and more recently "The Man Who Knew: The Life and Times of Alan Greenspan."
US metropolitan areas where flips made up the highest and lowest share of home sales in 2016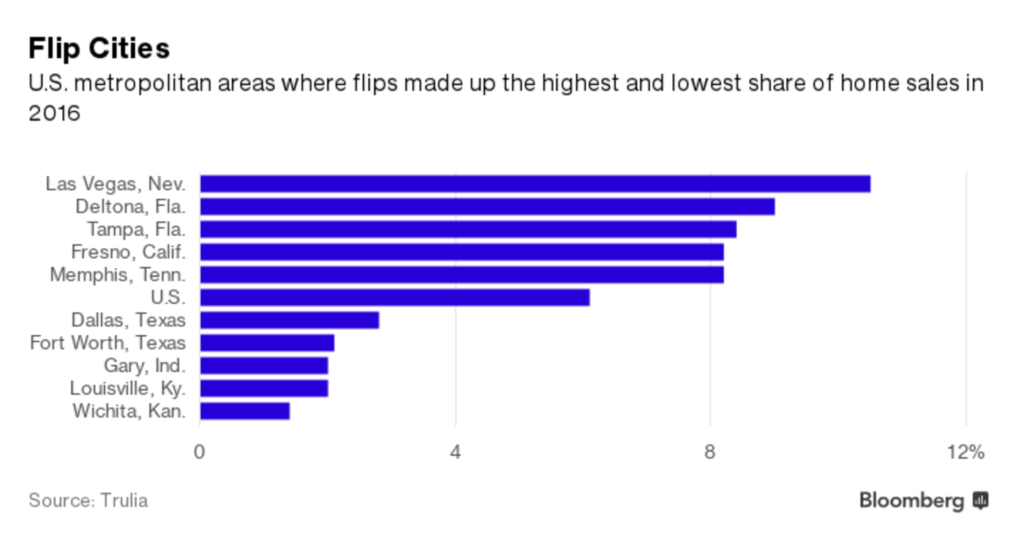 Source: Bloomberg
Want to receive our daily reads in your inbox? Sign up here!