Our Easy Like Sunday Morning on a three day weekend reads:
• Data Nerds Struggle to Gain Power at Hedge Funds (Bloomberg)
• Ticketing Startup Alleges Ticketmaster Used Hacking to Steal Trade Secrets (Wall Street Journal)
• The Bear Market That Nobody Talks About (Irrelevant Investor) see also The Impact of Longer Investor Time Horizons (A Wealth of Common Sense)
• Difference between Machine Learning, Data Science, AI, Deep Learning, and Statistics (Data Science Central)
• Closing the gap between behavioral science and business (Matt Wallaert)
• The Book That Bettered America (Atlantic)
• The Wisdom of Garbage: Researchers are digging into heaps of discarded food to uncover clues about why we throw so much of it away—and how cities can cut the waste. (City Lab) see also The Compost King of New York (New York Times)
• Watch and learn, Milo: At Harvard, the "most hated man in America" gives a master class in trolling (Quartz)
• CNN's Jake Tapper on Emerging the Journalistic Hero—And Internet Sensation—Of the Trump Era (Vogue)
• The stupendously dishonest Tucker Carlson (Washington Post)
Be sure to check out our Masters in Business interview this weekend with Howard Marks of Oaktree Capital, and author of The Most Important Thing: Uncommon Sense for the Thoughtful Investor.
Total Media Ad Spending Worldwide, by Region, 2014-2020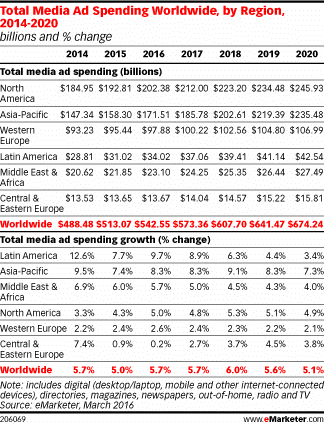 Source: eMarketer
Want to receive our daily reads in your inbox? Sign up here!