My easy-like-Sunday-morning reads:
• As Easy-Money Era Winds Down, Investors Bet on Growth (Wall Street Journal)
• The Reclusive Hedge-Fund Tycoon Behind the Trump Presidency (New Yorker)
• Trump delay of the 'fiduciary rule' will cost retirement savers $3.7 billion (Economic Policy Institute)
• How 'Consumer Relief' After Mortgage Crisis Can Enrich Big Banks (New York Times)
• Why Corporate Leaders Became Progressive Activists (National Review)
• Google's Algorithm Is Lying to You About Onions and Blaming Me for It (Gizmodo) see also Why Do Recipe Writers Lie About How Long It Takes To Caramelize Onions? (Slate)
• Bill Watterson: How to Find Your Life's Meaning (Better Humans)
• Startup to Serve Up Chicken Strips Cultivated From Cells in Lab (Wall Street Journal)
• The Odds You'll Fill Out A Perfect Bracket (FiveThirtyEight)
• These Scientists Sent a Rocket to Mars for Less Than It Cost to Make "The Martian" (Backchannel)
Be sure to check out our Masters in Business interview this weekend with Yuval Noah Harari, author of "Sapiens: A Brief History of Humankind," and "Homo Deus: A Brief History of Tomorrow."
AHCA Tax Credits in Trump States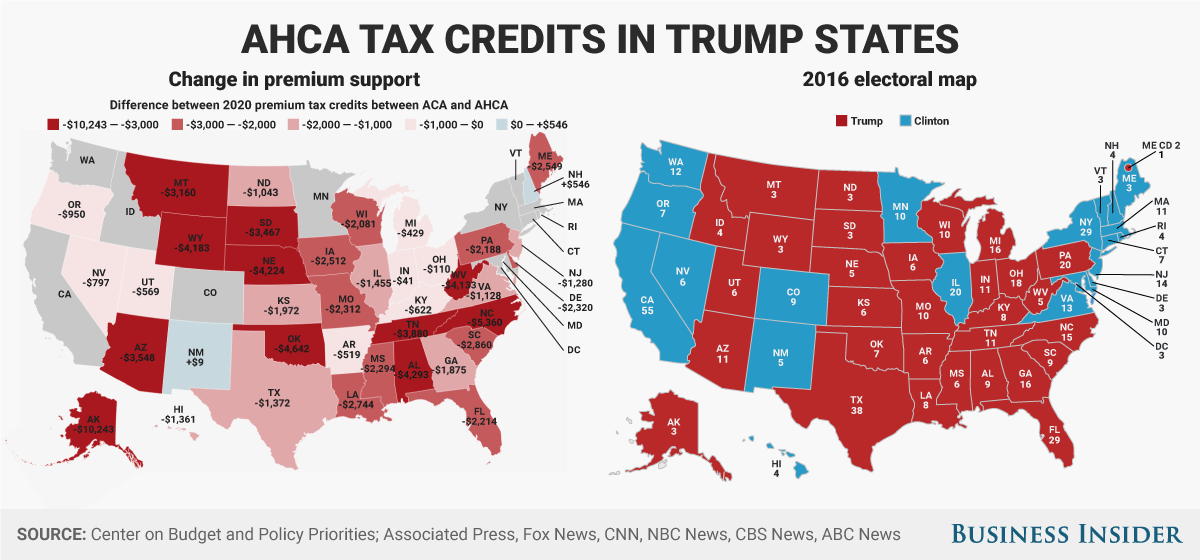 Source: Business Insider
Want to receive our daily reads in your inbox? Sign up here!