Three day weekend! Kick it off with our morning train home reads:
• Canada unveils plan to legalize pot (Vice) see also Trudeau Lays Out His Plan to Legalize Recreational Marijuana (Bloomberg)
• 20 Years In, Have TIPS Delivered? (Morningstar)
• This is the Jeff Bezos playbook for preventing Amazon's demise (Recode)
• Who's making Trader Joe's food? An investigation of the secretive grocery chain (SF Gate)
• Foreclosure Activity in Half U.S. Markets Now Below Pre-Market Crash Levels (World Property Journal)
• The astonishing reinvention of Donald Trump: US president has quickly adopted the stance of the Washington insider (Financial Times) see also Donald Trump's foreign policy is becoming everything he said he hated (Vox)
• Humankind: The Post-Truth Species (Bloomberg View)
• What Americans mean by 'health' (Christian Science Monitor)
• Debullshitifying the reporting on United's "removal" of Dr David Dao (Naked Capitalism)
• Crucified man had prior run-in with authorities  (Washington Post)
Be sure to check out our Masters in Business interview this weekend with Charley Ellis, Chair of of the Yale Endowment, Vanguard Board member, and all around finance legend (rebroadcast).
Global Income Distribution in 2003 and 2013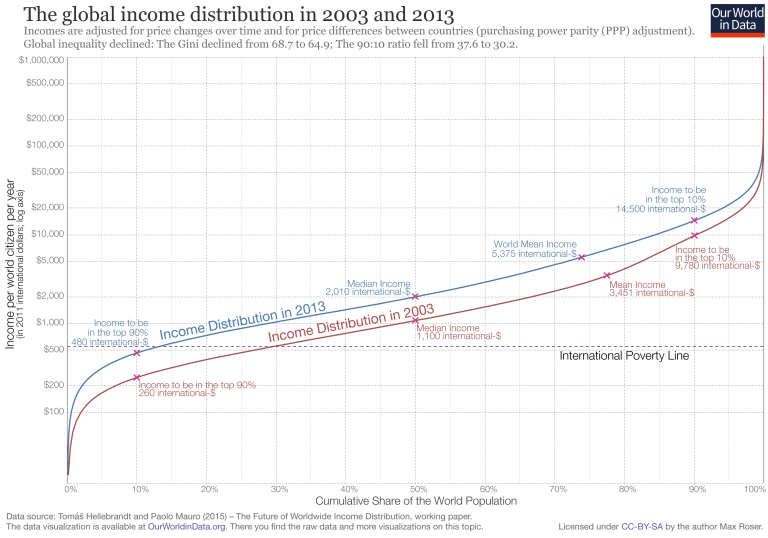 Source: Our World In Data
Want to receive our daily reads in your inbox? Sign up here!