My Easy Like Sunday morning reads:
• Uber vs AirBnB: do you have to be an asshole to found a brilliant start-up? (New Statesman)
• What We Saw Is What We Got: Disorganized dishonesty is the hallmark of the Trump administration's response to accusations of misconduct (Bloomberg Businessweek)
• Have the Rich Become "Super Citizens"? (New Republic)
• Vultures Are Circling as Time Inc. Gasps (Bloomberg View)
• The Woman Who Stood Between America and an Epidemic of Birth Defects (Smithsonian)
• Fox News undermines a free, independent press (Washington Post)
• Experts fear 'quiet springs' as songbirds can't keep up with climate change (Washington Post)
• On the Internet, Everyone's a Critic But They're Not Very Critical (Wall Street Journal) see also When 4.3 Stars Is Average: The Internet's Grade-Inflation Problem (Wall Street Journal)
• 10 Lessons of Trump's Meeting With the Russians (The Atlantic) see also Trump is the world's biggest mark (The Week)
• How Mountain Biking Is Saving Small-Town, USA (Outside)
Be sure to check out our Masters in Business interview this weekend with famed entrepreneur and venture capitalist Marc Andreessen of Andreessen Horowitz.
Unemployment in the US is falling, so why isn't pay rising?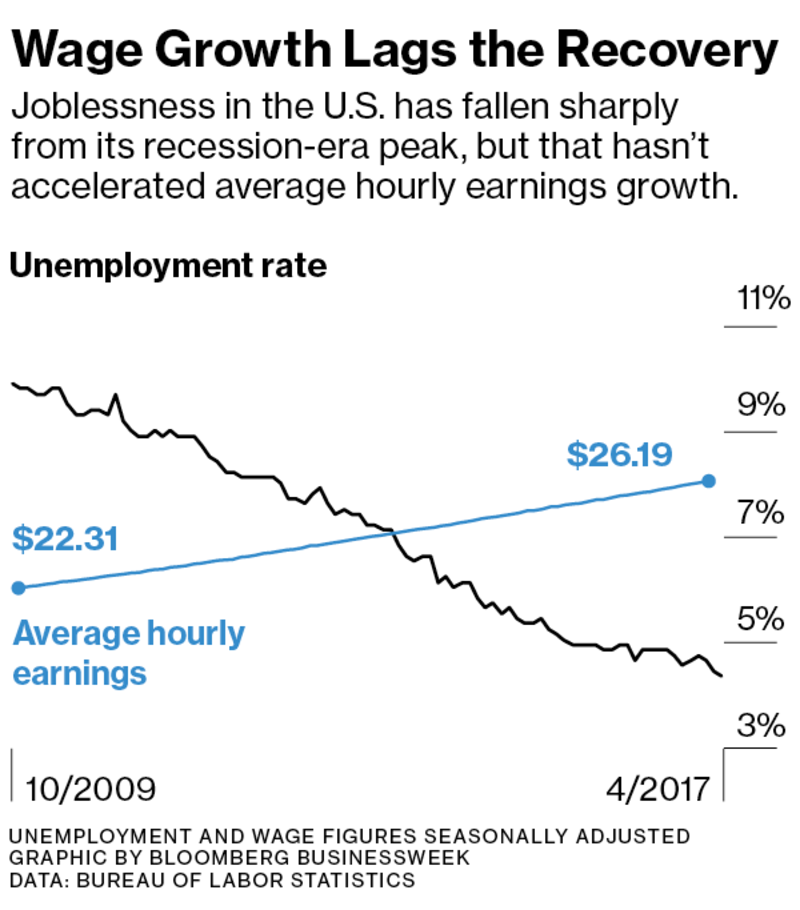 Source: Bloomberg Businessweek
Want to receive our daily reads in your inbox? Sign up here!