The weekend is here! Pour yourself a mug of Danish Blend coffee, grab a seat by the pool, and get ready for our longer form weekend reads:
• Apple's New Campus: An Exclusive Look Inside the Mothership (Wired)
• David M. Blitzer: Stock Picker Behind the S&P 500 (Wall Street Journal)
• It'll Take an Army to Kill the Emperor: Meet the Men and Women Winning the Fight Against Cancer (Popular Mechanics)
• The Case for Tactical Alpha: The Fundamental Flaw of Grinold's Fundamental Law (ReSolve)
• Amazing graphics: Miles of Ice Collapsing Into the Sea (New York Times)
• More Is More: Empire of Things: How We Became a World of Consumers (New York Review of Books)
• Platonically irrational: How much did Plato know about behavioural economics and cognitive biases? Pretty much everything, it turns out (Aeon)
• While US counter-terrorism efforts remain locked on Islamist extremism, the growing threat from homegrown, rightwing extremists is even more pressing (The Guardian)
• What Is Sophistication? How American Jewish humor became the comedy of the global elite. (American Interest) but see Austin Powers at 20: Mike Myers, Jay Roach, More Spill Secrets in Shagadelic Oral History (Hollywood Reporter)
• This Is the Best Dinosaur Fossil of Its Kind Ever Found (National Geographic)
Be sure to check out our Masters in Business interview this weekend with famed entrepreneur and venture capitalist Marc Andreessen of Andreessen Horowitz.
CAPE Ratio, Why Have Thou Forsaken Me?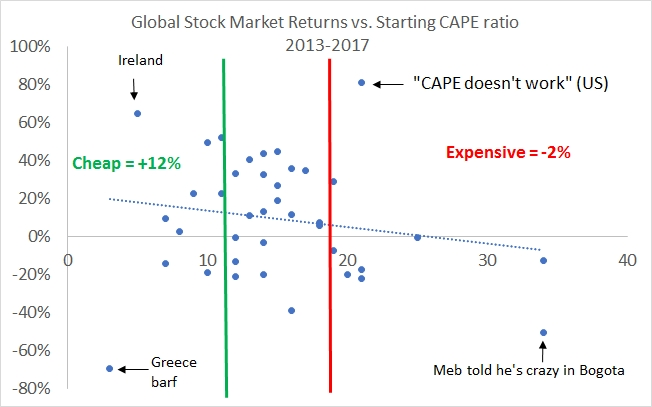 Source: Meb Faber
Want to receive our daily reads in your inbox? Sign up here!