The weekend is here! Pour yourself a mug of Peaberry coffee, grab a seat by the pool, and get ready for our longer form weekend reads:
• The music industry according to super-producer Jimmy Iovine (Financial Times)
• Boorman: Some Things I've Learned Over The Last 30 Years (Broadsword Capital)
• America's Future Is Texas (New Yorker)
• The End of Economics (Los Angeles Review of Books)
• A critical behavioural economics and behavioural science reading list (Jason Collins)
• Forget the Blood of Teens. Metformin Promises to Extend Life for a Nickel a Pill. (Wired)
• The Man Behind Trump's Voter-Fraud Obsession (New York Times)
• First impressions count: A judgment of competence is made in a tenth of a second on the basis of facial features. Thus political decisions are made (Aeon)
• How Gotham Gave Us Trump (Politico) see also The Remaking of Donald Trump (Bloomberg Businessweek)
• Meatballs: An Oral History (Vanity Fair)
Be sure to check out our Masters in Business interview this weekend with Duff McDonald, author of two critically acclaimed books: The Golden Passport about issues with Harvard Business School, and The Firm about the havoc wreaked by McKinsey & Co.
Middle Class Fortunes in Western Europe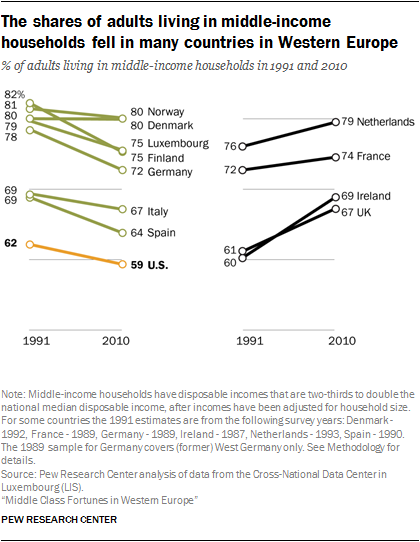 Source: Pew Research
Want to receive our daily reads in your inbox? Sign up here!