My easy like Sunday morning train reads:
• Nike is still the king of the sneaker industry, but even great empires can fall (Quartz)
• The Ideal Index Portfolio And The Many Paths To Perfection (Portfolio Charts)
• De-fanging the fiduciary rule (FT Alphaville)
• Bitcoin's price hit $5,000 last week. It's still a dumb investment (Los Angeles Times)
• Markets Don't Care Who the President Is (Bloomberg View)
• How I Get It Done: Maggie Haberman, White House Correspondent for the New York Times (The Cut)
• The New Right-Wing Extremism: Unified, Tech-Savvy and Emboldened (Wall Street Journal)
• The Incarcerated Women Who Fight California's Wildfires (New York Times)
• Ivanka Trump has learned well from her father's cons (Washington Post)
• This $209,000 Convertible Is Your Next Step After a Porsche 911 (Bloomberg)
Be sure to check out our Masters in Business interview this weekend with Katie Stockton, chief technical strategist for BTIG.
Facts About Millennial Households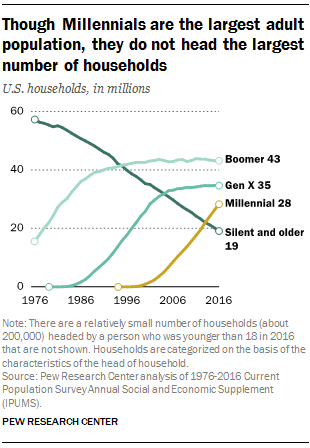 Source: Pew Research
Want to receive our daily reads in your inbox? Sign up here!