My morning hotel reads:
• Ivanka and Donald Trump Jr. Were Close to Being Charged With Felony Fraud. Then Dad's Fixer Stepped In (Pro Publica)
• Ford Needs Less McKinsey and More Mustang. (Bloomberg Businessweek)
• Skills vs. Behavior (Collaborative Fund)
• Nope, Hedge Funds Are Still in the Dumper (Bloomberg Gadfly)
• 6 Fresh Horrors From the Equifax CEO's Congressional Hearing (Wired)
• Las Vegas was the year's 7th mass shooting — or maybe the 337th (Vice) see also Mass Shootings in the U.S. (New York Times)
• Russia Targets NATO Soldier Smartphones: Moscow seeks information on operations and troop strength, according to officials with NATO countries.(Wall Street Journal)
• The Unequal Burden of Rising Temperatures: How Can Low-Income Countries Cope? (IMF)
• Is Netflix Hurting Stand-up? (Vulture)
• In Pictures: Catalonia's Independence Crisis Escalates.  (Bloomberg)
What are you reading?
Mortgage Debt Payments Lowest in Over 35 Years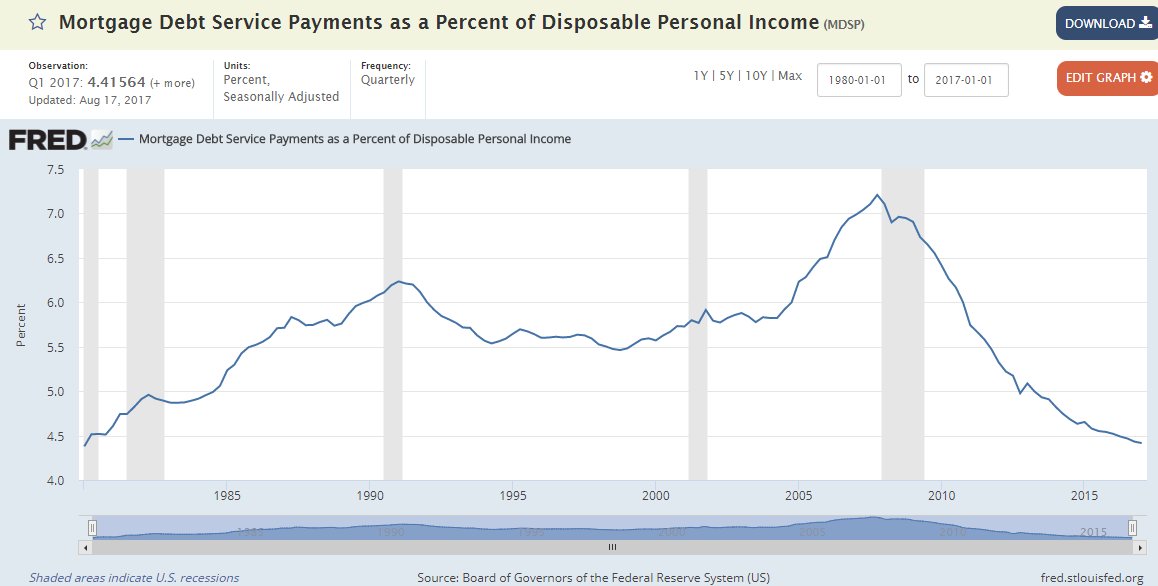 Source: Finuke
Want to receive our daily reads in your inbox? Sign up here!