The weekend is here! Pour yourself a mug of peaberry coffee, grab a seat on the couch, and get ready for our longer form weekend reads:
• The Case Against Bridgewater Is Nonsense: Matt Levine's master class debunks Grant's Interest Rate Observer. (Bloomberg View)
• The scientists persuading terrorists to spill their secrets (Guardian)
• The best books on Economic Inequality Between Nations and Peoples (Five Books)
• Mathematicians Measure Infinities, Find They're Equal (Quanta Magazine)
• God Is a Bot, and Anthony Levandowski Is His Messenger (Wired) see also Here's How Breitbart And Milo Smuggled Nazi and White Nationalist Ideas Into The Mainstream (Buzzfeed)
• The Plot to Overthrow the All-America Research Team (Institutional Investor)
• How U.S. military outsourcing turned toxic (ProPublica)
• What Facebook Did to American Democracy (The Atlantic)
• This Isn't 'the New Normal' for Climate Change — That Will Be Worse (New York Magazine)
• The crazy, true story of the birth of the Warriors' historic offense (ESPN) see also 'This is the Most Inexplicable Story in Sports of the Last 20 Years' (Longreads)
Be sure to check out our Masters in Business interview this weekend with Paul Wilmott, quantitative finance expert, author of numerous books, most recently The Money Formula: Dodgy Finance, Pseudo Science, and How Mathematicians Took Over the Markets. 
We're About to Fall Behind the Great Depression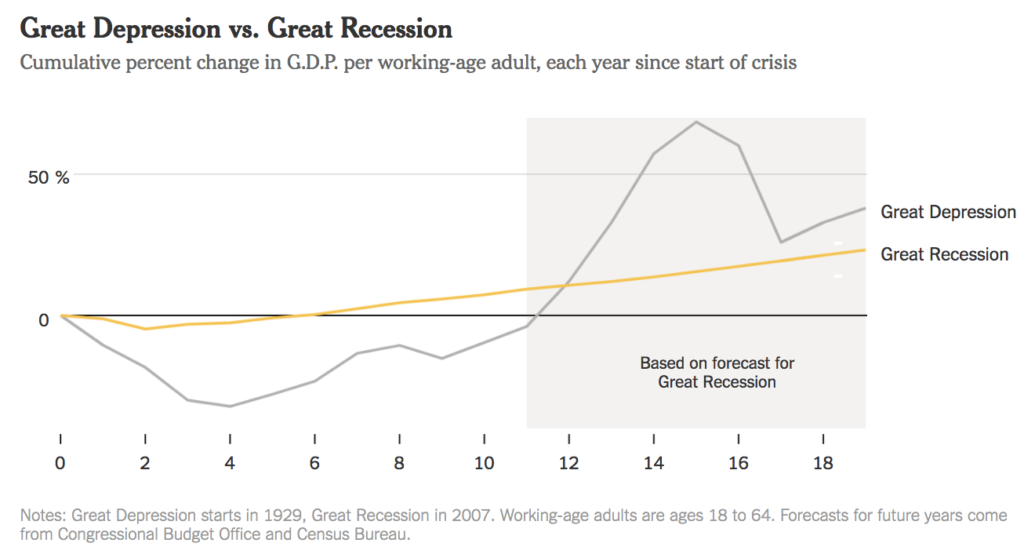 Source: New York Times
Want to receive our daily reads in your inbox? Sign up here!