The weekend is here! Pour yourself a mug of Sumatra coffee, grab a seat in the backyard, and get ready for our longer form weekend reads:
• A Letter to Jamie Dimon, and anyone else still struggling to understand cryptocurrencies (Chain) see also The future of money: How cryptocurrencies with real backing will become the ultimate disruptive technology (Cayman Financial Review)
• Everyone's Mad at Google and Sundar Pichai Has to Fix It (Bloomberg Businessweek)
• Just own the damn robots. (Reformed Broker)
• The Secret History of FEMA (Wired)
• How Salesforce CEO Marc Benioff Drives Relentless Forward Thinking (Fortune)
• The curious case of the $629 Band-Aid (Art19)
• Multilevel-marketing companies like LuLaRoe are forcing people into debt and psychological crisis (Quartz)
• We Should Be Talking About the Effect of Climate Change on Cities; But we're not. Instead, the effects on cities tend to be edited out or statistically minimized (Longreads)
• Rigged: How Voter Suppression Threw Wisconsin to Trump (Mother Jones)
• Tom Petty: Friends and Bandmates on His Life and Legacy (Rolling Stone)
Be sure to check out our Masters in Business interview this weekend with Jim Ross, Chairman of State Street's SSGA, and best known as the father of the Spyders (SPY).
US Stocks Prove Their Long-term Value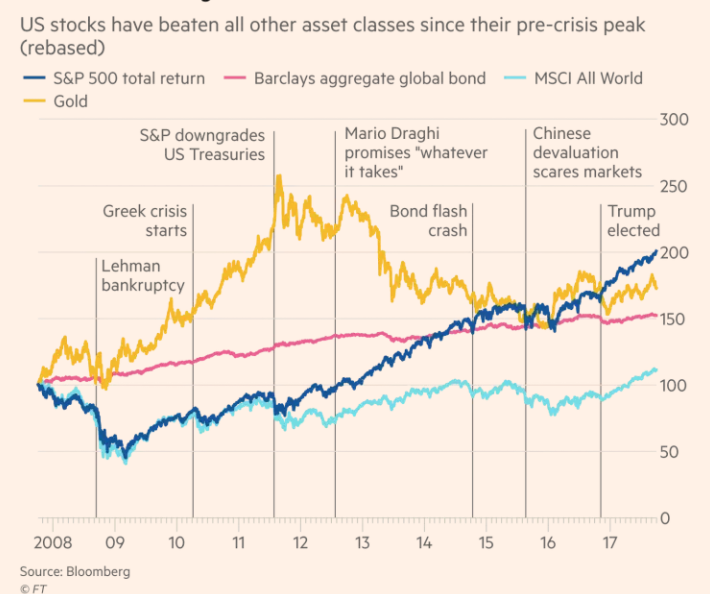 Source: Financial Times
Want to receive our daily reads in your inbox? Sign up here!