The weekend is here! Pour yourself a mug of Danish blend coffee, grab the window seat, and get ready for our longer form weekend reads:
• The Death and Life of a Hedge Fund Mansion (Institutional Investor)
• The Psychology of Money (Collaborative Fund)
• Inside the Crypto World's Biggest Scandal: Blockchain: A Love Story—And a Horror Story (Wired)
• Elon Musk Has Always Been At War With The Media (Buzzfeed)
• Trump's Attacks on Germany: The Enemy in the White House (Spiegel)
• The Reputation-Laundering Firm That Ruined Its Own Reputation: The PR company that worked with dictators and oligarchs deliberately inflamed racial tensions in South Africa—and destroyed itself in the process. (New Yorker)
• The Quiet Americans Behind the U.S.-Russia Imbroglio (New York Times)
• The Bugs Are Winning (New York Review of Books) see also The Next Plague Is Coming. Is America Ready? (The Atlantic)
• The Real Story of Donald Trump Jr.; It's never been trickier to be the president's son. (GQ)
• How to spot a perfect fake: the world's top art forgery detective (The Guardian)
Be sure to check out our Masters in Business interview this weekend with Dr. Raife Giovinazzo of Fuller & Thaler Asset Management. Giovinazzo conducts research using applied behavioral finance to enhance investment processes at the firm. He studied under Nobel-winning pioneers of behavioral economic Daniel Kahneman and Richard Thaler.
DJIA has closed above its 200-day moving average for 500 consecutive trading days (7th longest run in history).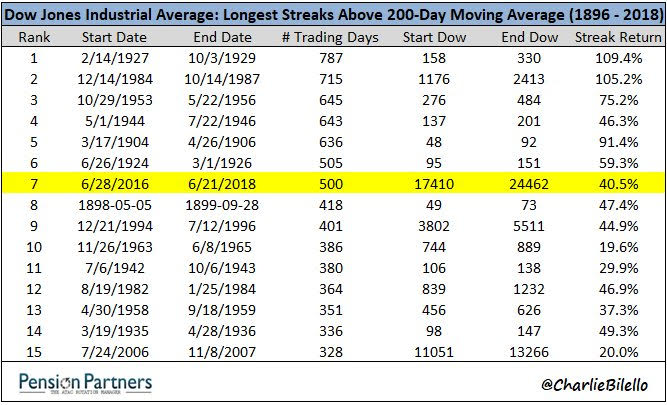 Source: @CharlieBilello
Want to receive our daily reads in your inbox? Sign up here!