My easy like Sunday morning reads:
• Why do some in the tech community support universal basic income? They're 'terrified' about the future. (Recode)
• Pretty Soon, You'll Get to Invest Just Like Ray Dalio (Bloomberg Opinion)
• Is Your Brain Wired for Wealth? (Jason Zweig)
• How The Show Northern Exposure Changed My Life (Random Roger)
• Why Are Young Billionaires So Boring? (Bloomberg) see also Mark Zuckerberg Tops Warren Buffett to Become the World's Third-Richest Person (Bloomberg)
• Hunting the Con Queen of Hollywood: Who's the "Crazy Evil Genius" Behind a Global Racket? (Hollywood Reporter)
• "An Amateur Boxer Up Against Muhammad Ali": Washington Fears Trump Will Be No Match for Putin in Helsinki (New Yorker)
• The Secrets of Leonard Leo, the Man Behind Trump's Supreme Court Pick (Daily Beast)
• The Worst Cybersecurity Breaches of 2018 So Far (Wired)
• Tiny Cosmic Particle Delivers Major Breakthrough in Astronomy (The Atlantic) see also News: Monster black holes shoot out neutrinos like cosmic bullets (Syfy Wire)
Be sure to check out our Masters in Business interview this weekend with Dave Butler, Co-Chief Executive Officer and Head of Global Financial Advisor Services at Dimensional Fund Advisors, which manages $600 billion dollars.
Q1 2018, U.S. homeowners have $14.9 trillion in equity vs $10.1 trillion in mortgage debt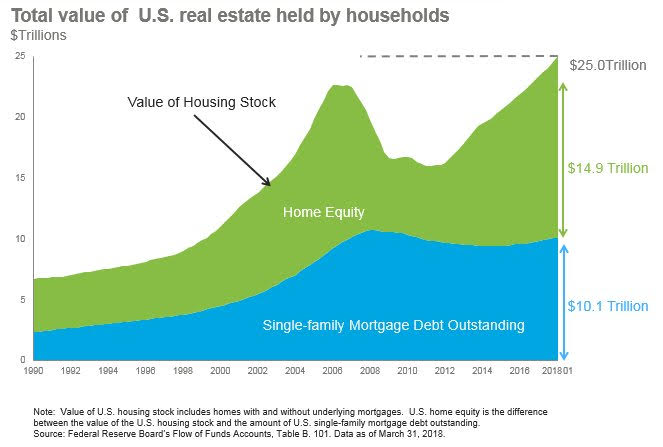 Source: @lenkiefer
Want to receive our daily reads in your inbox? Sign up here!