The weekend is here! Pour yourself a mug of Danish Blend coffee, grab a seat on the couch, and get ready for our longer form weekend reads:
• The 41% Man: Perceptive Advisors' Joseph Edelman regularly crushes markets and hedge fund peers. How? (Institutional Investor)
• How Subscription Business Models are Changing Business and Investing (25iq)
• Virgin Galactic's Rocket Man (New Yorker)
• Observations From Decades of Tracking Investment Newsletters (American Association of Individual Investors)
• The inside story of how McDonald's innovated the Quarter Pounder. (Fast Company)
• The Cognitive Biases Tricking Your Brain: Science suggests we're hardwired to delude ourselves. Can we do anything about it? (The Atlantic)
• How social media took us from Tahrir Square to Donald Trump (MIT Technology Review) see also The Unlikely Activists Who Took On Silicon Valley — and Won (New York Times)
• She works for Trump. He can't stand him. This is life with Kellyanne and George Conway. (The Washington Post)
• The Iraqi Spy Who Infiltrated ISIS (New York Times)
• Meet the Man Who's Building Sonos' Audio Internet (Wired)
Be sure to check out our Masters in Business interview this weekend with Richard Sylla, professor emeritus of economics at New York University's Stern School of Business, and the author of several books, including "A History of Interest Rates" and most recently, "Alexander Hamilton: The Illustrated Biography." He notes that rates in recent years are "the lowest in history, from the Code of Hammurabi to Babylon Civilization, Greek and Roman Civilization, the Middle Ages, Renaissance, right up until the present."
US trade is basically all about China, Canada, and Mexico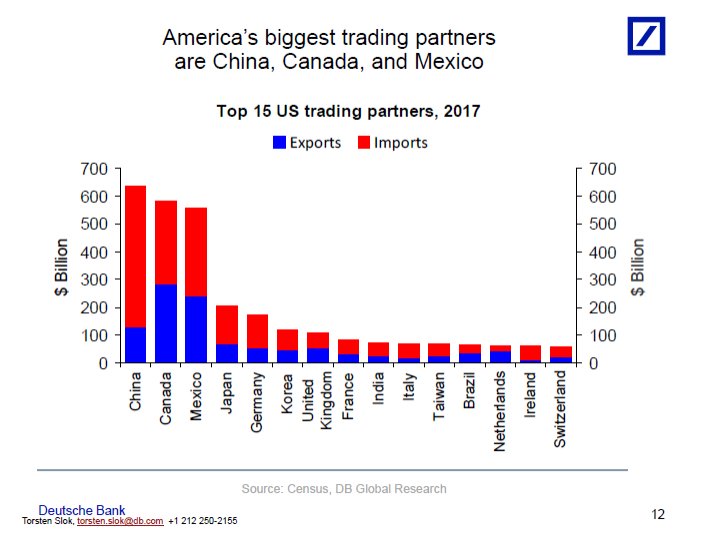 Source: Torsten Sløk, Deutsche Bank Securities
Want to receive our daily reads in your inbox? Sign up here!