My easy like Sunday morning reads:
• You'll miss Trump one day (The Week)
• The Next Level of Commitment: Revealing our Money Secrets (Longreads)
• A stats-based look behind the venture capital curtain (Medium)
• If fintech is so innovative, why are lender costs up 61% since 2008? (Basis Point)
• Apple's New Strategy: Sell Pricier iPhones First (Wall Street Journal) see also iPhone XS Camera Review: Zanzibar (Austin Mann)
• Further evidence that the tax cuts have not led to widespread bonuses, wage or compensation growth (Economic Policy Institute)
• How Russia Helped Swing the Election for Trump (New Yorker)
• Edward Snowden Reconsidered (New York Review of Books)
• Rich people are to blame for the rise of Lyme disease (Outline)
• 3 Common Misconceptions About Stoicism (And A Counter To Each) (Daily Stoic)
Be sure to check out our Masters in Business interview this weekend with Peter Conti-Brown, a financial historian and legal scholar at the Wharton School of the University of Pennsylvania. Conti-Brown studies central banking, financial regulation and public finance, with a particular focus on the history and policies of the U.S. Federal Reserve System. He is the author of "The Power and Independence of the Federal Reserve."
More than half expect their news to be inaccurate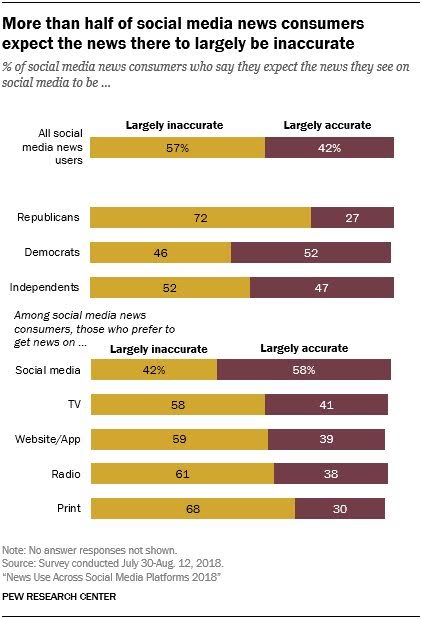 Source: @PewResearch
Want to receive our daily reads in your inbox? Sign up here!