My easy like Sunday morning reads:
• Will Early Investors Be the Big Winners in the Cannabis Boom? (Bloomberg Businessweek)
• You buy a purse at Walmart. There's a note inside from a "Chinese prisoner." Now what? (Vox)
• The Feds' Termination Of A Tiny Contract Inflames Bitter Fight Over Fetal Tissue (Kaiser Health News)
• The Cow-Milking Robots Keeping Small Farms in Business (The Atlantic)
• Why you have (probably) already bought your last car (BBC) see also Cars and trucks park everywhere because the buck stops nowhere (Crain's New York)
• Economic Anxiety Didn't Elect Trump and It May Hurt His Party in the Midterms (New York Times)
• What 50-year-olds know that 20-year-olds don't (Ladders)
• The Love Story that Upended the Texas Prison System (Texas Monthly)
• She was 16. He was 25. Should marrying a child be allowed? (Washington Post)
• Shelved: Bill Evans' Loose Blues: An album that took five months to record sat in the vault for 20 years before finally getting pressed to vinyl. (Longreads)
Be sure to check out our Masters in Business interview this weekend with Rex Sorgatz, author of "The Encyclopedia of Misinformation: A Compendium of Propaganda, Hoaxes, Conspiracies & Miscellaneous Fakery." He discusses the intersection of media, technology and culture.
How Do the Hours Americans Work Compare to the Rest of the World?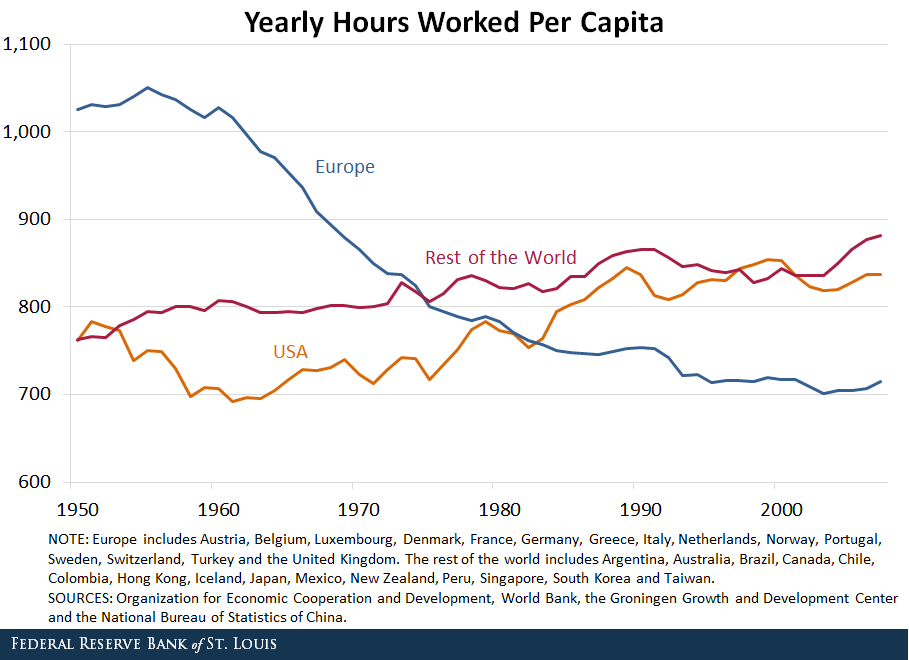 Source: Federal Reserve Bank of St. Louis
Want to receive our daily reads in your inbox? Sign up here!