My easy like Sunday morning reads:
• What Happened, According to Mueller. (Wall Street Journal) see also Explainer: Why Trump's legal woes go beyond the Mueller report (Reuters)
• Yield Curve Inversions Aren't Great For Stocks. (Wealth of Common Sense)
• Yabba Dabba Don't: 'Flintstone House' owner in trouble for dinosaurs, other landscaping improvements (San Francisco Chronicle)
• The Dilemma Facing a $358 Billion Investing Giant (Wall Street Journal)
• A Mar-a-Lago Weekend and an Act of God: Trump's History With Deutsche Bank (New York Times)
• How Joe Rogan's Hugely Popular Podcast Became an Essential Platform for "Freethinkers" Who Hate the Left (Slate)
• 3 cities in the U.S. have ended chronic homelessness: Here's how they did it (Fast Company)
• Santana: California News Media Partnership Forms to Publish Police Misconduct Records (Voice of OC) see also Here are the stories about police misconduct uncovered so far by a new media partnership (Los Angeles Times)
• Students around the world go on 'strike' for climate change (PBS) see also Kids in 123 countries went on strike to protect the climate (Vox)
• Weird squid, octopus and cuttlefish are transforming laboratory research (Washington Post)
Be sure to check out our Masters in Business interview this weekend with Roger Ibbotson, founder and chairman of Ibbotson Associates, now a part of Morningstar. He is a Professor at the Yale School of Management, and Chairman/CIO of Zebra Capital Management, LLC, an equity investment and hedge fund manager. Previously he served as executive director of the Center for Research in Security Prices (CRSP).
Trump Has Publicly Attacked the Russia Investigation More Than 1,100 Times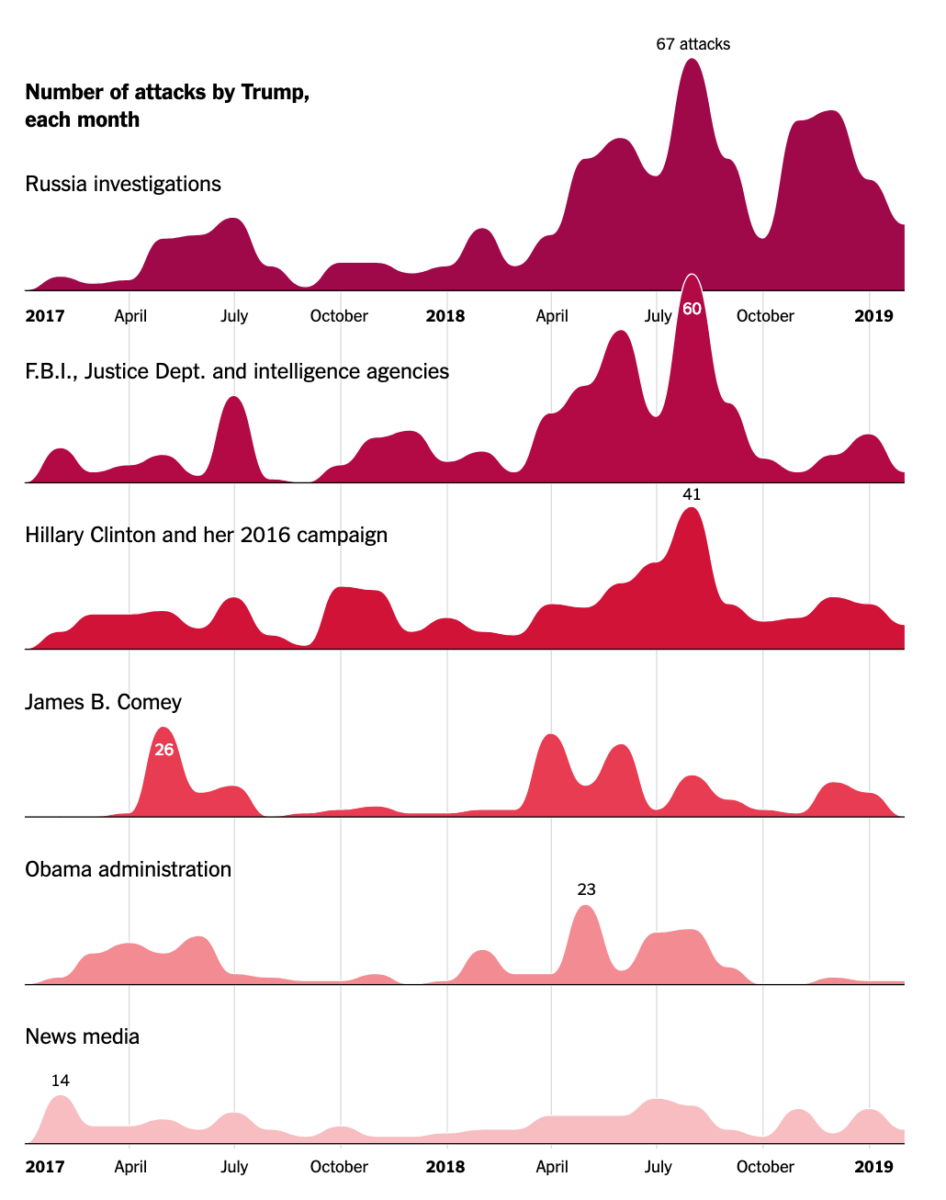 Source: New York Times
Want to receive our daily reads in your inbox? Sign up here!