Programming Note: Starting next week, Ritholtz's Reads will have a new home. To receive early morning train reads every day in your inbox, please sign up here.
~~~
My easy like Sunday morning reads:
• Storm Preparation (Belle Curve)
• Bubble, Bubble, Toil and Trouble (Research Affiliates)
• The Thrill of Uncertainty (Collaborative Fund)
• Michael Mauboussin, Interview No. 4 (Farnam Street)
• The Guilty Pleasures of Mansion Porn (The Atlantic)
• Brexit means goodbye to Britain as we know it (Financial Times)
• Deepfakes will influence the 2020 election—and our economy, and our prison system (Quartz)
• Border Patrol Chief Carla Provost Was a Member of Secret Facebook Group filled with racist, vulgar, and sexist content (The Intercept)
• The true origins of the Seth Rich conspiracy theory. (Yahoo)
• USWNT's World Cup champs were unflappable, unequaled (Sports Illustrated)
Be sure to check out our Masters in Business interview this weekend with Scott Kupor, managing partner at Andreessen Horowitz, and author of the new book, Secrets of Sand Hill Road: Venture Capital and How to Get It.
Support for legal abortion matches its 24-year high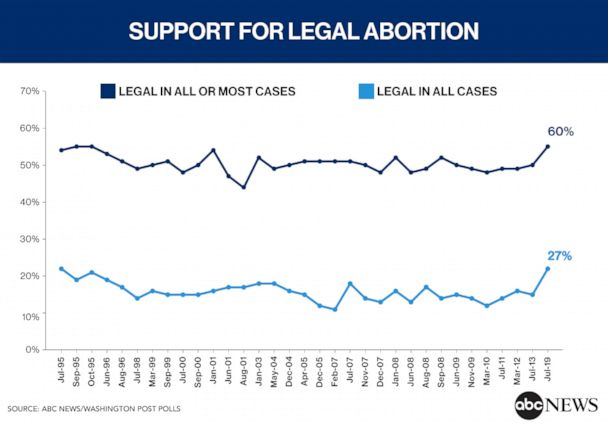 Source: ABC News