My Two-for-Tuesday morning train reads:
• The Market Forces That Propelled a Massive Rally in Long Bonds (Wall Street Journal) see also Positive yields ahoy! Investors hoover up European junk bond issues (Reuters)
• The Funds That Make You Buy Low and Sell High (Wall Street Journal)
• Trade war drives 'innocent' Asian nations towards recession (BBC) see also The Trade War Is About to Hit Your Pocket. Literally (Bloomberg)
• How Amazon's Shipping Empire Is Challenging UPS and FedEx (Wall Street Journal)
• Shiller: The Trump Narrative and the Next Recession (Project Syndicate) see also Dalio: The Three Big Issues and the 1930s Analogue. (LinkedIn)
• Investors should beware the smoothness of private capital returns (Financial Times)
• U.S. Unleashes Military to Fight Fake News, Disinformation (Bloomberg) see also Leaked Emails Show How White Nationalists Have Infiltrated Conservative Media (Splinter)
• Here's why members of the House GOP keep abandoning ship. (CNN)
• Five Years Later, Obama's Tan Suit 'Controversy' Seems More Ridiculous Than Ever (Esquire) see also Five years ago, Obama was blasted for wearing a tan suit. Now, it's used to contrast him with Trump. (Washington Post)
• Ever had the post-vacation blues? Here's how to avoid them. (Washington Post)
Be sure to check out our Masters in Business interview this weekend with Jay Bowen III, CEO/CIO of Bowen, Hanes and Co. The firm has received national acclaim for its 43-year tenure as the sole manager of the City of Tampa Firefighters' and Police Officers' Pension Fund.
US tariffs are at the highest level since 1960s — a major break with 200-year globalization trend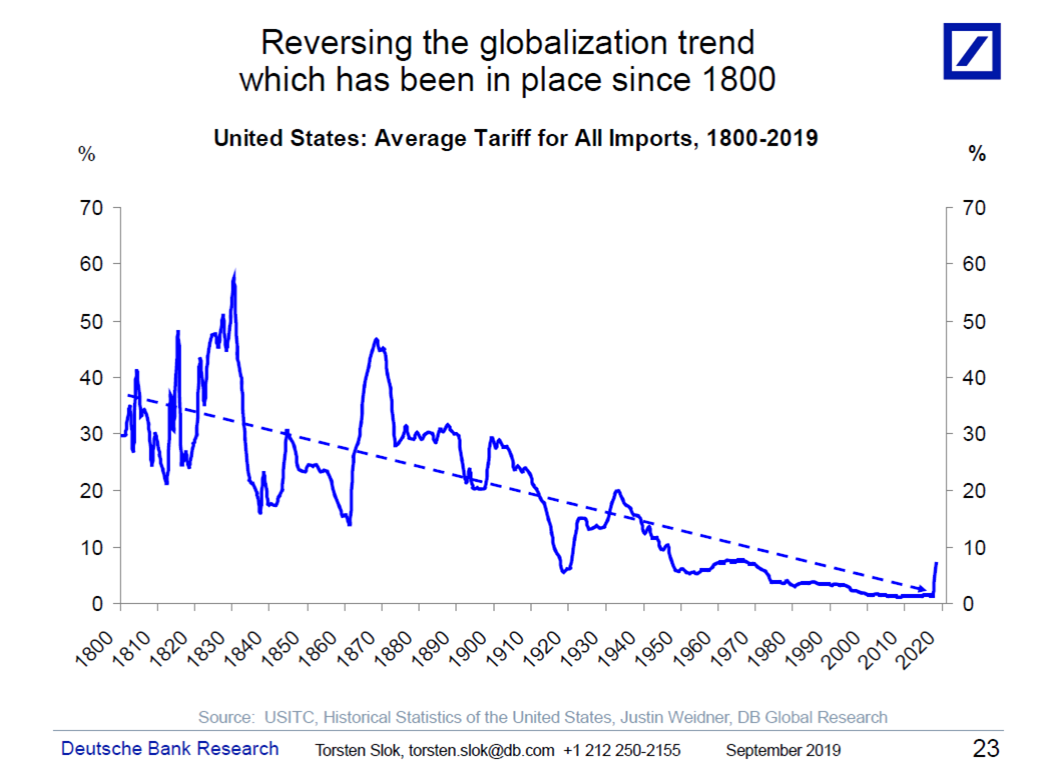 Source: Torsten Sløk, Deutsche Bank Securities