My easy like Sunday morning reads:
• This Pizza Pays a Living Wage: Fast-casual chain &Pizza wants to become the most progressive fast-food employer in the U.S. (Bloomberg Businessweek)
• It Is Very Bad That Our President Reportedly Lied About Trade Negotiations With China (Slate) see also Everyone has forgotten about why Donald Trump can't win a trade war with China. (Business Insider)
• How to Fix the Global Retirement Crisis (Barron's)
• Elon Musk: Humanity Is a Kind of 'Biological Boot Loader' for AI (Wired)
• Immutable Truths and Arguing Fools (Collaborative Fund)
• The Tea Party Didn't Get What It Wanted, but It Did Unleash the Politics of Anger (New York Times)
• Valerie Plame's claim that Scooter Libby leaked her identity.  (Washington Post)
• 'Someone's Gotta Tell the Freakin' Truth': Jerry Falwell's Aides Break Their Silence (Politico)
•  The Heir: Ivanka was always Trump's favorite. But Don Jr. is emerging as his natural successor. (The Atlantic) but see The Dynasty Ends With King Donald: There will be no President Ivanka. No President Jared. And certainly no President Donald Jr. (Politico)
• Bouncing Back From Rejection with Actor and Comedian Adam Ferrara (Slate)
Be sure to check out our Masters in Business interview this weekend with Sir John Browne, former CEO of British Petroleum between 1995 and 2007, and author of numerous books, most recently, Make, Think, Imagine: Engineering the Future of Civilisation.
A Manufacturing Recession Could Cost Trump a Second Term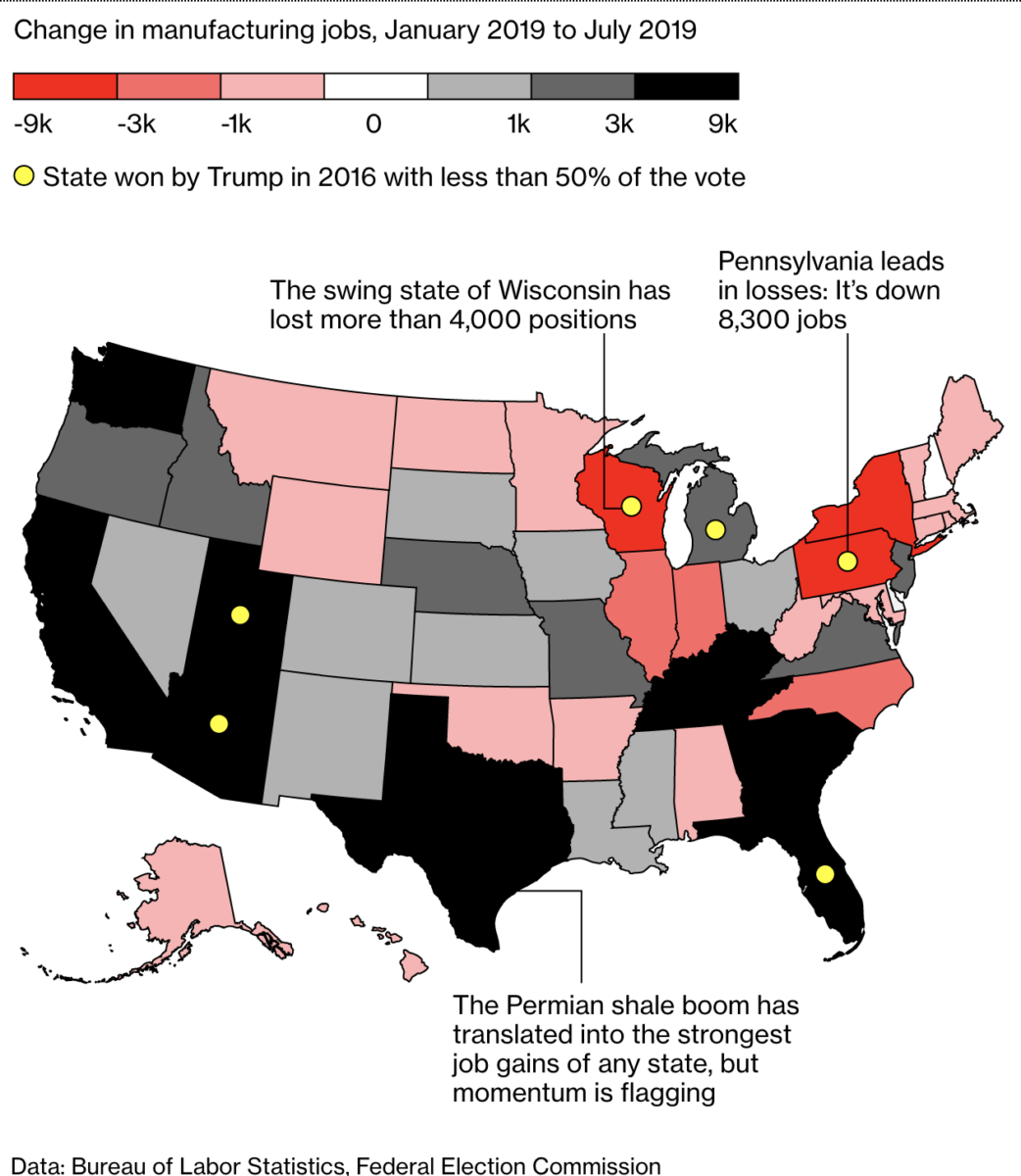 Source: Bloomberg Businessweek