My Two-for-Tuesday morning train reads:
• Inside Mark Zuckerberg's private meetings with conservative pundits: The social-media giant fends off accusations of liberal bias with lengthy, off-the-record gatherings at Zuckerberg's home (Politico) see also Facebook is refusing to take down a Trump ad making false claims about Joe Biden (Vox)
• Should You Dump Your Mutual Funds For ETFs? (IBD)
• 48 Hours in the Strange and Beautiful World of TikTok (New York Times) see also The Future Teen Stars of America Live on TikTok (New York Times)
• You've been reading charts wrong. Here's how a pro does it. (Washington Post)
• Artificial Intelligence: What's to Fear? (American Interest) see also Machine Learning: How predictive-text technology could transform the future of the written word.  (New Yorker)
• You're fooling yourself if you think you can retire early with kids (Marketwatch)
• Why Shep Smith finally walked out of Fox News for good (CNN) see also Shep Smith Has the Hardest Job on Fox News (Time)
• Steve Levitt plays poker with the FT (Tim Harford)
• 'We too love money more than freedom': South Park creators issue mock apology over Chinese censorship (Washington Post) see also 'South Park' Scrubbed From Chinese Internet After Critical Episode (Hollywood Reporter)
• The Best Athlete Americans Have Never Heard Of: American pro athletes face pressure to stick to sports. Australia's David Pocock has a different idea. (The Atlantic)
Be sure to check out our Masters in Business interview this weekend with Binyamin Appelbaum, lead business and economics writer on the New York Times editorial board. His latest book is "The Economists' Hour: False Prophets, Free Markets and the Fracture of Society."
Democrats in Tuesday's Debate Facebook Demographic Spends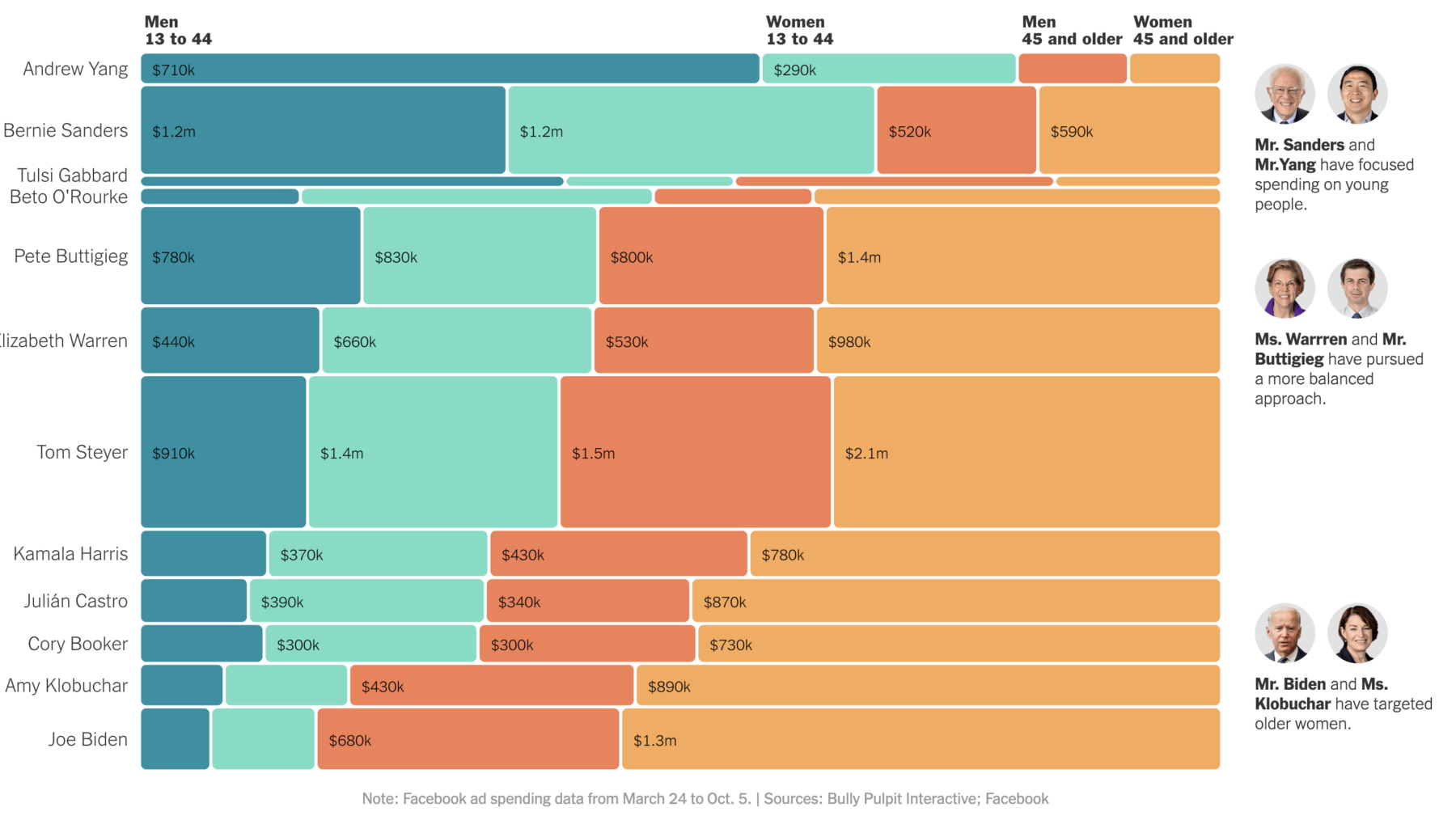 Source: New York Times
Sign up for our reads-only mailing list here.