My Two-for-Tuesday morning train reads:
• Twilight of the Stock Pickers: Hedge Fund Kings Face a Reckoning (Wall Street Journal) see also Hedge Funds Keep Losing Assets — But Hiring Fundraisers (Institutional Investor)
• They Know What You Watched Last Night (New York Times)
• Has Private Equity Lost Its Original Purpose? (Institutional Investor) see also Saudi sovereign wealth fund negotiating stronger terms with Softbank Group over bad investments (Fox Business)
• Diaper rush: conquering a $9 billion market no one wants to talk about (Reuters)
• Different Kinds of Stupid (Collaborative Fund) see also Unknown Unknowns: The Problem of Hypocognition: We wander about the unknown terrains of life, complacent about what we know and oblivious to what we miss. (Scientific American)
• The Difference Between Amateurs and Professionals (Farnam Street)
• Re-election runway: What U.S. airports can tell us about Trump's 2020 chances (NBC News) see also Local elections hinge on housing this fall (Boston Globe)
• So you want to talk about lynching? Understand this first. (Washington Post)
• Facebook allows prominent right-wing website to break the rules (Popular Information) see also A Former Facebook Insider on Why It's So Hard for the Tech Giant to Get Elections Right (Slate)
• Why Eddie Murphy Is Still a Legend: One of America's most beloved performers, Eddie Murphy has been making audiences laugh since he was a teenager (WSJ Magazine)
Be sure to check out our Masters in Business interview this weekend with Nobel Laureate Michael Spence, discussing his work on the dynamics of information flows and market structures, and his book, The Next Convergence: The Future of Economic Growth in a Multispeed World.
Asset Management's Biggest Winners & Losers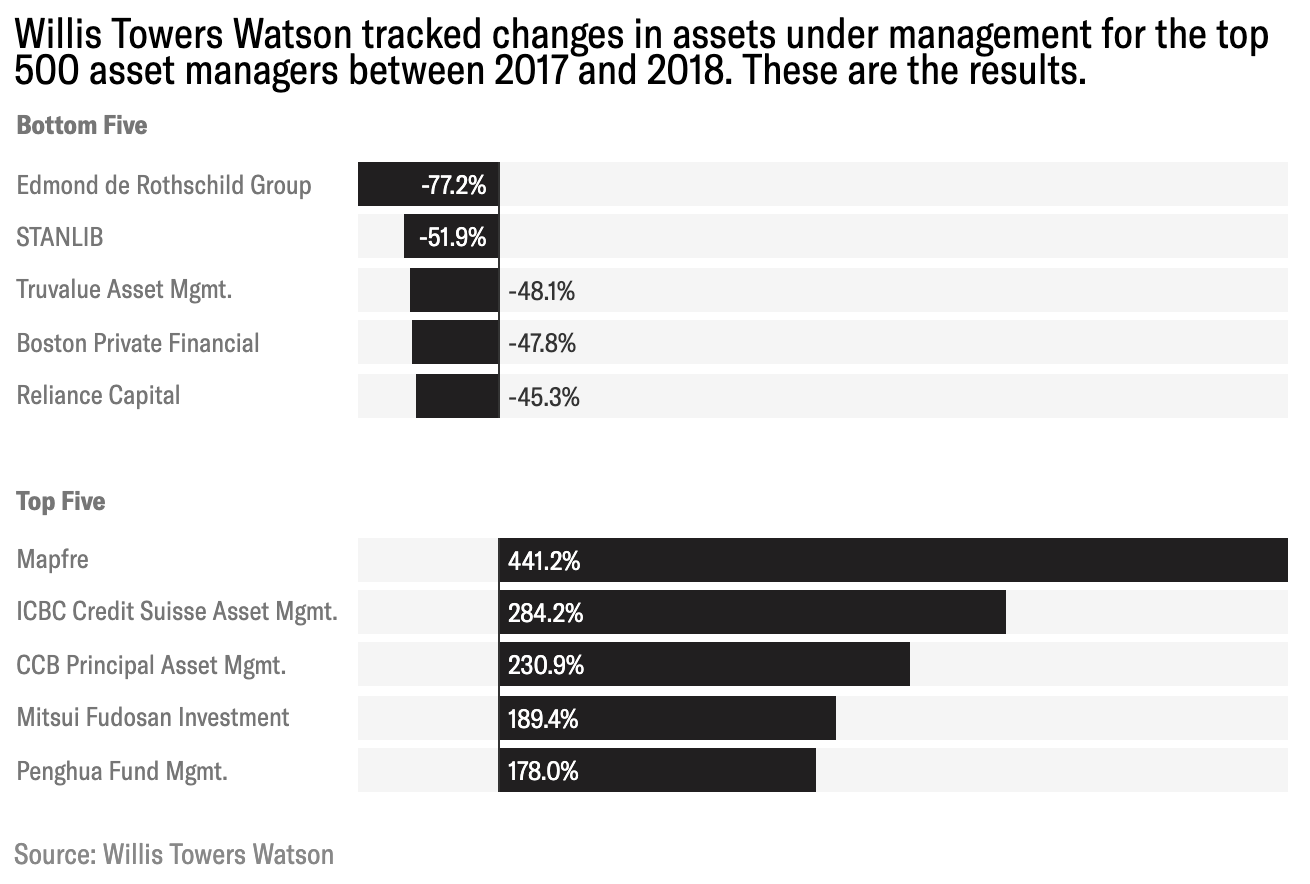 Source: Institutional Investor