My easy like Sunday morning policy reads:
• The Shadow Commander: Qassem Suleimani is the Iranian operative who has been reshaping the Middle East. (New Yorker)
• Elevating Resolutions for the New Year Inspired by Some of Humanity's Greatest Minds (Brain Pickings)
• The Middle Class Risks Consuming Itself: Health care and education employ a lot of people and sell services they increasingly can't afford. (Bloomberg)
• Donor Advised Funds Were Up Almost 300 Percent This Decade. Why? (Worth)
• A Skeptic's Guide to Modern Monetary Theory (N. Gregory Mankiw)
• It Looks Like Health Insurance, but It's Not. 'Just Trust God,' Buyers Are Told. (New York Times)
• Behind the Ukraine Aid Freeze: 84 Days of Conflict and Confusion (New York Times) see also Unredacted Ukraine Documents Reveal Extent of Pentagon's Legal Concerns (Just Security)
• Cops Are Swarming TikTok to Try to Destigmatize Law Enforcement (Medium)
• Bonfire of Vanities: How the Left's Gave Up on it's Great, Timeless Projects for Political Correctness, Twitter Wars, and Narcissism (and That Cost it a Future) (Eudaimonia)
• Swamp fever: Don't blame Trump for the rise of right-wing conspiracy theories. The GOP helped cultivate them — until they took over. (Washington Post)
Be sure to check out our Masters in Business interview this weekend with Brian Kelly, better known as "The Points Guy." Kelly took an interest in credit card and airline points, and turned it into a substantial media business, with 100 employees and 10 million unique visitors a month.
Obama vs Trump in Job Growth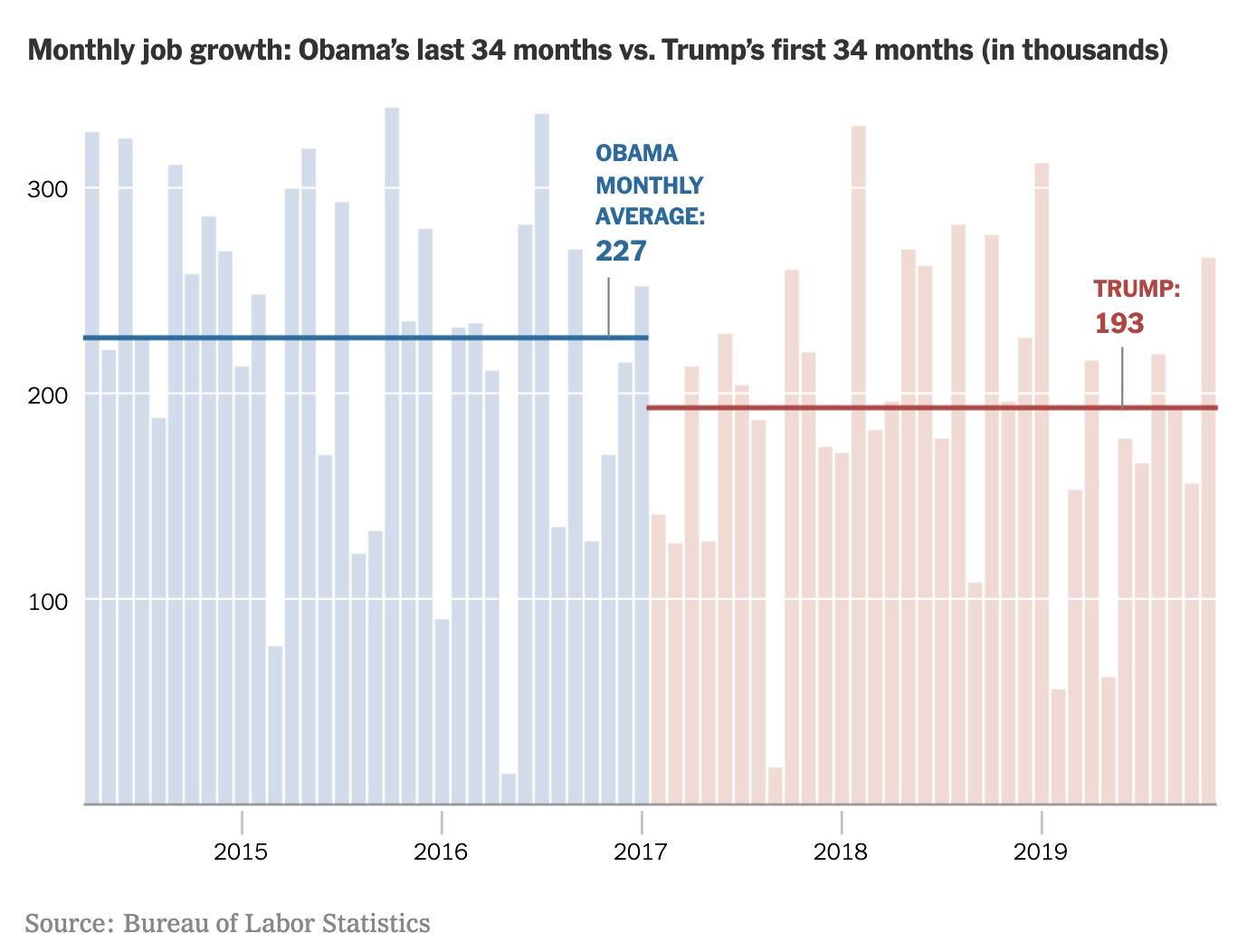 Source: New York Times
Sign up for our reads-only mailing list here.