My mid-week morning train WFH reads:
• Anthony Scaramucci Isn't Liking Lockdown. He's Loving It. A man, a plan, a reconciled marriage, a Long Island sanctuary, and . . . political ambitions of his own? (Institutional Investor)
• Could unemployment reach Great Depression levels? Yes, but … (Los Angeles Times) see also No, This is Not the Great Depression (Irrelevant Investor)
• The Flight to Safety (Of Dollars And Data)
• Becoming An Investing Buddha (Safal Niveshak)
• This Bailout Is Really Going to Screw Over Mom and Pop Businesses (Slate) see also The Fed's Intervention Is Widening the Gap Between Market Haves and Have-Nots (Wall Street Journal)
• Apple, Amazon, and Common Enemies (Stratechery)
• The Quest for a Pandemic Pill (New Yorker)
• Misinfo Watch: How the 5G coronavirus conspiracy theory tore through the internet (Wired) see also Steak-umm Emerges as Unlikely Coronavirus Misinformation Watchdog (Wall Street Journal)
• In the Middle of a Pandemic, There's Nothing 'Guilty' About 'Guilty Pleasure' (Glamour)
• How Passover Brisket Became Texas Barbecue (Food & Wine)
Be sure to check out our Masters in Business interview this weekend with Jonathan Miller (of Miller Samuel), discussing the impact of the Coronavirus pandemic on the national real estate industry.
Stocks' Recovery Times After Bear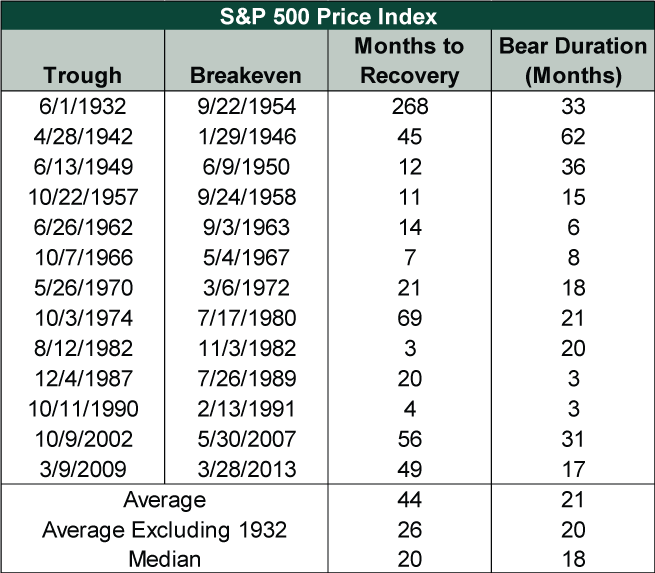 Source: Fisher Investments
Sign up for our reads-only mailing list here.