My Memorial Day reads:
• Military families share Memorial Day with nation mourning coronavirus losses (ABC)
• Pat LaFrieda shares the 8 grill accessories he can't do without, and how to use them (Business Insider)
• The U.S. Is Getting Shorter, as Mapmakers Race to Keep Up (New York Times)
• How Bad Is The COVID-19 Misinformation Epidemic? (fivethirtyeight)
• Copyright bots and classical musicians are fighting online. The bots are winning. (Washington Post) see also The Information Apocalypse Is Already Here, And Reality Is Losing (Buzzfeed)
• The Car Is Staging a Comeback, Spurring Oil's Recovery (Bloomberg)
• Here's How Facebook And YouTube Allowed Conspiracy Theorists To Turn Bill Gates Into The Villain Of The Coronavirus Pandemic (Buzzfeed)
• Putin Is Well on His Way to Stealing the Next Election (The Atlantic)
• The Secret to Searing a Bistro-Quality Steak (Wall Street Journal)
• I've Been Sounding Taps Since My Ship Was Attacked in 1945 (New York Times)
Be sure to check out our Masters in Business interview this weekend with Jon Taffer, creator of Bar Rescue about the state of bars and restaurants under lockdown and beyond. Taffer is the author of Don't Bullsh*t Yourself!: Crush the Excuses That Are Holding You Back.
An Incalculable Loss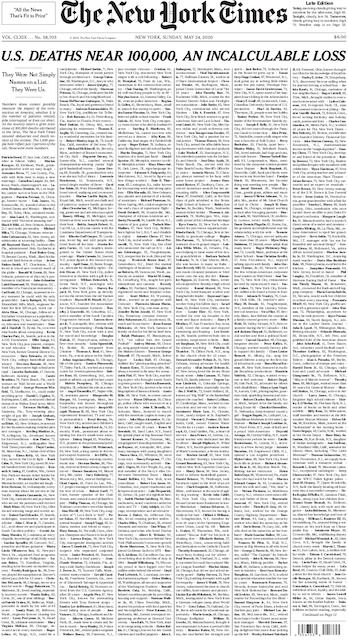 Source: NYT
Sign up for our reads-only mailing list here.