My morning train WFH reads:
• 'Still Catching Up': Jobless Numbers May Not Tell Full Story (New York Times) see also U.S. Jobless-Claims Figures Inflated by States' Backlog-Clearing (Bloomberg)
• The Madness of Crowds: How to Cope with Today's Faster Volatility (Chief Investment Officer)
• Did a Chinese Hack Kill Canada's Greatest Tech Company? (Businessweek)
• New-Age Ice Vendors Upend the Traditional Business Models (Albert Bridge Capital) see also Tesla Now the World's Most Valuable Automaker (Bloomberg)
• How Robert F. Smith helped thousands of minority-owned small businesses secure urgent aid in Washington (Washington Post)
• Stock Markets Rebounded. So Why Aren't Companies Going Public? (Institutional Investor)
• When Proof Is Not Enough: Throughout history, evidence of racism has failed to effect change. (fivethirtyeight)
• 'Stop Hate for Profit' campaign gathers momentum: One Third of advertisers may boycott Facebook (The Guardian) see also Clean Up Your Act, Facebook, or We're Leaving (New York Times)
• The data is in: Fox News may have kept millions from taking the coronavirus threat seriously (Washington Post)
• Is the Five-Day Office Week Over? (Upshot)
Be sure to check out our Masters in Business interview this July Fourth holiday weekend is with Robin King, Chief Executive Officer for the Navy SEAL Foundation, a 501(c)(3) national nonprofit organization that provides critical support and assistance to the Naval Special Warfare (NSW) community and its families.
Census Bureau's New Household Pulse Survey Shows Who Is Hardest Hit During COVID-19 Pandemic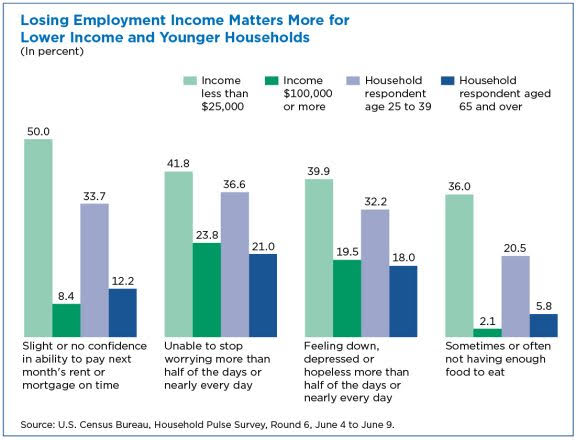 Source: United States Census Bureau
Sign up for our reads-only mailing list here.