My morning train WFH reads:
• 150,000 Americans have died from Covid-19: "If two large planes crashed every day in the US, killing everyone on board, the nation would be despondent. If the US suffered a loss of life on the scale of the 9/11 attacks — 50 times over — the tragedy would be incomprehensible. But that's how many lives coronavirus has claimed in the US since this pandemic started just six months ago." (CNN)
• One of the Best Market Neutral Funds Is Run by a Robot: Castle Ridge's AI-powered hedge fund racked up double-digit gains at a time when market-neutral peers are struggling.  (Institutional Investor)
• Why Natural Gas Is the Energy Investment of the Future: Renewable sources like wind and solar may not be enough. Pension plan investors weigh the odds. (Chief Investment Officer)
• US Treasuries: the lessons from March's market meltdown: The authorities are looking at ways to buttress a market that is the bedrock of the global financial system (Financial Times)
• Bezos antitrust grilling was a reminder of Amazon's power over its sellers: Amazon's CEO was calm and polite in his first Congressional appearance. But he did nothing to quiet a huge concern. (Vox) see also Parsing Tim Cook: "Making the best not the most" is true, capturing what made Apple Apple, and what Apple should continue to focus on in all of its varying endeavors. (Daring Fireball)
• Not All Billionaire Philanthropists Are Created Equal: From January to May of 2020, more than 10 percent of billionaires made a pledge in the fight against COVID-19—but it's clear that not all billionaire philanthropists are the same. (Worth)
• Americans Aren't Making Babies, and That's Bad for the Economy: The U.S. could see 500,000 fewer births next year, which will have repercussions long after the pandemic is over. (Businessweek)
• Why Japan is emerging as NASA's most important space partner: Japan provides a few major advantages in helping the US get back to the moon. In return, it will get its own chance to set foot on the lunar surface. (MIT Technology Review)
• The Surprisingly Simple Methods Behind the Biggest Hacks:  In reality, though, most hacks are ingenious but relatively straightforward. Hackers are more stage magicians than wizards, their methods a series of mirrors and magnets. (Medium)
• 6 Steps to the Best Barbecued Ribs: A backyard grill can easily produce the spicy, smoky slabs that for many are barbecue's ultimate prize. (New York Times)
Be sure to check out our Masters in Business interview this weekend with Simon Hallett, Co-CIO at Harding Loevner, which manages about $70 billion dollars. Hallett is also the owner of Plymouth Argyle Football Club, a League One team based in the city of Plymouth, Devon, England.
Quarterly Five-Year Forecast of Relative Risk and Return Across Asset Classes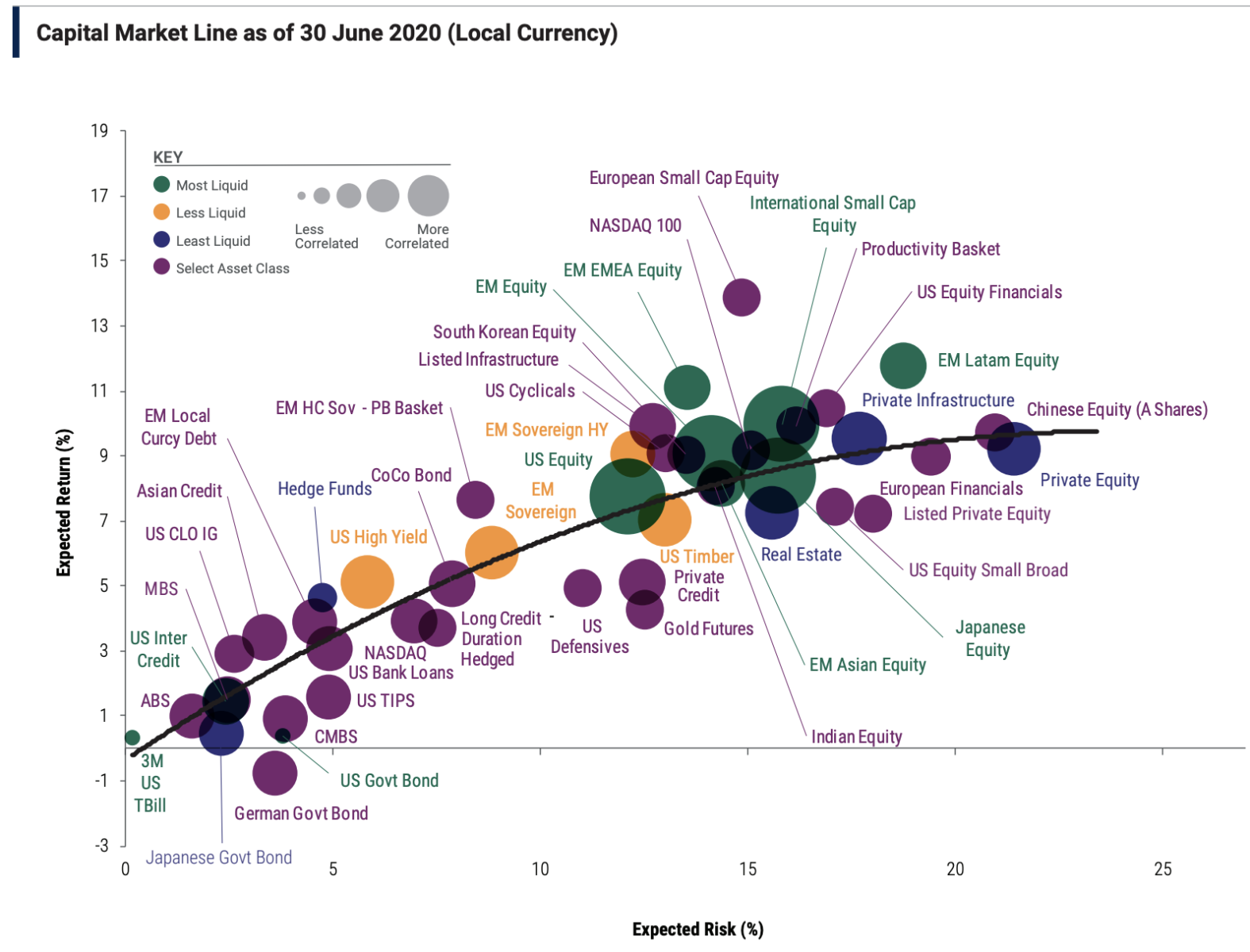 Source: PineBridge Investments
Sign up for our reads-only mailing list here.