My back to work morning train WFH reads:
• Sorry, collectibles are terrible investments Nobody wants your beanie babies. And even "serious" collectibles are mathematically destined to underperform. (Full Stack Economics)

• This doesn't look very recessionary: Economic data hasn't just been strong — they're exceeding expectations (Sam Ro)

• 'The sound of money': Wind energy is booming in deep-red Republican states: Far from the coasts, wind energy is thriving here in America's heartland, on the vast plains of Oklahoma, Texas and Nebraska. Long an area devoted to oil and gas, Western Oklahoma is now home to one of the largest wind farms in the world. (CNN)

• How to Stop Your Fund Manager From Feeding on Your Cash Investors don't have to settle for scraps anymore now that interest rates are rising. (Wall Street Journal)

• Higher interest rates could help, Powell says. Not everyone agrees. The Federal Reserve has outlined a fix it says can help with surging prices and a tight labor market. Economists say it's much more complicated. (Washington Post)

• Off the East Coast, a Massive Network of Wind Turbines Is Coming—Along With New Risks for Migrating Birds Species journeying over the Atlantic Ocean will soon have to navigate wind farms. But without clean energy, their futures are more imperiled. (Audubon) see also How Cities Became Accidental Wildlife Havens One of the greatest modern feats for animal conservation was wildlife adapting to urban spaces, according to a new book. Now the challenge is learning to live with them. (Citylab)

• The Russian Oligarch With the Most to Lose: One of the country's richest men, steel magnate Alexey Mordashov, distanced himself from politics, but Putin's Ukraine invasion made him a pariah (Wall Street Journal)

• Covid hasn't given up all its secrets. Here are 6 mysteries experts hope to unravel. unravel (Stat)

• Lawsuits against Alex Jones are a new strategy in curbing conspiracy theories Sandy Hook parents' lawsuits spark new hopes — and fears — about what this means for the future of online disinformation. (Grid)

• How Serena Williams Saved Her Own Life Black women are nearly three times more likely to die after childbirth than white women. Serena Williams was almost one of them. Here, in her own words, she tells her story. (Elle)
Be sure to check out our Masters in Business interview this weekend with Mark Jenkins, Head of Global Credit, at Carlyle. The firm manages over $300 billion in assets. Carlyle's Global Credit platform manages over $73 billion in assets in liquid, illiquid, and real asset strategies.
Manhattan Apartment Rents Are Now Above Pre-Pandemic Levels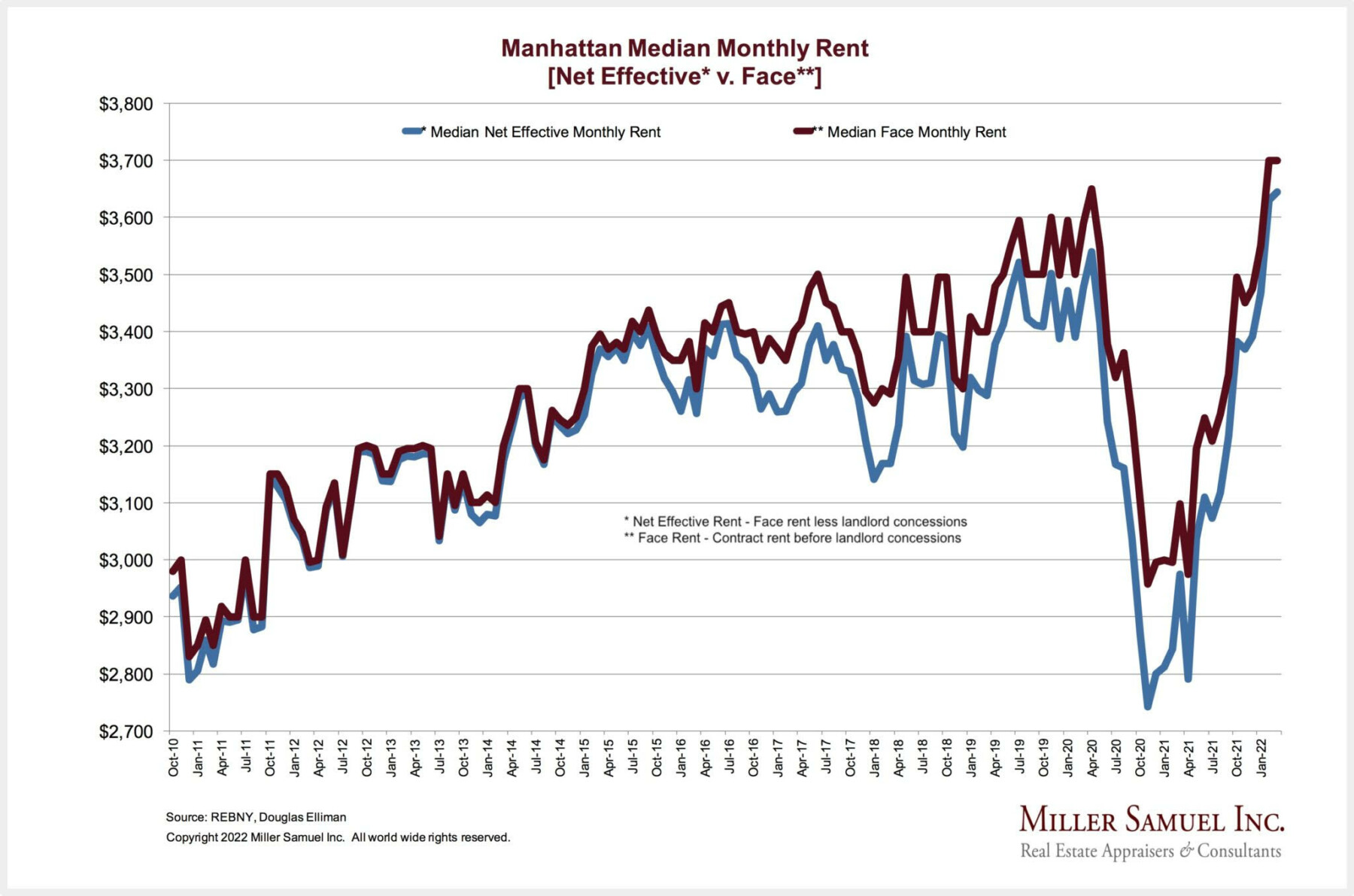 Source: Jonathan Miller via Miller Samuel
Sign up for our reads-only mailing list here.